Soldiers receive Afghanistan medals up a mountain
In a break from the parade ground norm, soldiers and civilian staff from 16 Air Assault Brigade's headquarters walked up a Welsh mountain last week to collect their Afghanistan campaign medals.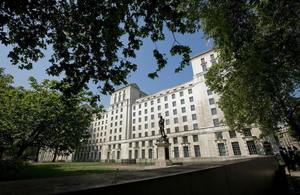 Approximately 80 soldiers and staff from Colchester-based Headquarters 16 Air Assault Brigade climbed Pen-y-Fan in the Brecon Beacons for the unique medal presentation.
16 Air Assault Brigade were in command of Task Force Helmand (TFH) from October 2010 to April 2011, handing over command to 3 Commando Brigade Royal Marines.
This was 16 Air Assault Brigade's fourth deployment to Afghanistan; they were the first to enter Kabul, and this was followed by three tours in central Helmand, the last before this one being in 2008.
The role of the HQ, based in Lashkar Gah, is to provide co-ordination and assistance for units across TFH's area of operations.
Padre Andrew Totten led a short memorial service on the mountain top last week before the Operational Service Medals, awarded to soldiers following their first tour, were presented by Lieutenant General Sir Cedric Norman George Delves.
Brigadier James Chiswell, Commander of 16 Air Assault Brigade, said the mountain was chosen for the parade because the brigade had done a lot of training in the area. He said:
Recently back from Afghanistan, it just felt like the perfect place to bring the headquarters - somewhere that would be memorable and somewhere that's particularly special to us.
Published 3 May 2011