Soldiers of North West Army HQ receive Jubilee Medals
More than 160 soldiers from 42 (North West) Brigade have received their Queen's Diamond Jubilee Medals at a rain-soaked ceremony held in Fulwood Barracks in Preston, Lancashire.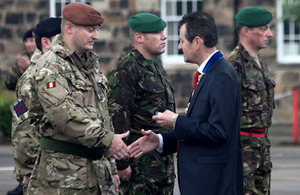 Troops from the brigade's regional recruitment team, Personnel Recovery Unit (PRU) and its headquarters were presented with their medals by the Mayor of Preston, Councillor Carl Crompton.
The Jubilee Medal is presented to, among others, members of the Armed Forces, both Regular and Reserve, who have completed five full calendar years of service prior to 6 February this year.
Other honours awarded at the ceremony included an Afghanistan campaign medal, an Accumulated Campaign Service Medal and four Long Service and Good Conduct Medals.
The presentations came at the end of an event-packed week of celebrations marking Her Majesty The Queen's 60-year reign.
Brigadier Nick Fitzgerald, Commander of 42 (North West) Brigade, said:
It is important if a soldier receives a medal from the Crown that we do it publicly. It makes it really special. I am hugely proud of each and every one of them and it is great that their families are here too. For a young son or daughter to see their mum or dad get a medal is something they will remember for the rest of their lives.
Corporal Karl Hubbersty of the Royal Artillery is currently with the 42 Brigade PRU after overcoming bacterial meningitis earlier this year. He received his Queen's Diamond Jubilee Medal and a Long Service and Good Conduct Medal.
He said:
I am very proud, it is always a proud moment to receive medals, but the Diamond Jubilee Medal is something really special.
Published 12 June 2012