Soldiers in Germany get improved accommodation
Defence Estates (DE) has completed two significant projects to improve the living accommodation for British soldiers based in Germany.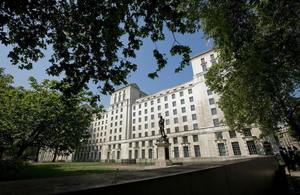 At Princess Royal Barracks in Gutersloh three new Single Living Accommodation (SLA) blocks providing 108 en-suite bed-spaces have been built under a £6.3 million project. In addition, more than 500 soldiers from 7 and 16 Signal Regiments based at Javelin Barracks in Elmpt will be able to self-cater following the refurbishment of 42 communal kitchen areas across 25 (SLA) blocks at the site.
Each of the new three-storey blocks at Princess Royal Barracks is made up of two 'flatlets' per floor containing six individual apartments, which are accessed though spacious hallways. They have laundry facilities and kitchenettes and the rooms come complete with modern furniture and have been designed to provide their residents with ample storage.
Traditional bricks and tiles have been used to ensure the buildings are in-keeping with the original infrastructure at the site, which was built in the mid-thirties as a Luftwaffe fighter station. Outside, a car park, access road and landscaped gardens have been established along with a central patio hosting outdoor seating, with the main mess building close at hand.
Sergeant Dave Grinter of 1 Logistics Support Regiment said:
The rooms are great, there is a lot more space, great storage, SKY TV, my own bathroom and it is much quieter. This is the best accommodation I have lived in by far.
DE Project Manager, Nick Farrell, said:
It has been a privilege to deliver yet another SLA-modernisation initiative providing long-overdue improvements in home-comfort for our soldiers; in this case SNCO's (Senior Non-Commissioned Officers) who returned from deployment to 1930's living accommodation.

It has also been a pleasure working in excellent partnership with the key stakeholders and our German colleagues. It's a very positive result and we all look forward to working together again to bring further improvements to Gutersloh Station.
The re-modelled kitchens at Javelin Barracks have been created by opening up previously cramped kitchenettes, with walls between the existing kitchens and adjacent rooms being knocked down to provide much larger communal areas. They are equipped with new kitchen furniture, including fridge freezers, four-ring hobs and combination ovens.
Warrant Officer 1 Julian Vowles Royal Engineers, UK Support Command said:
DE has done an excellent job to carry out the works in a relatively short time frame and much liaison has been required between DE facilities managers and the station Quartermaster's department to manage access to the buildings during a time when resident units have been deploying and returning from Operations.
DE Facilities Manager, Jim Gore added:
We were extremely pleased that we have been able to complete this project on time as it brings significant improvements to the living accommodation for the single soldiers here in Elmpt Station (formally RAF Bruggen). This project was the second phase and a continuation of the Soldier First project we started twelve months ago.

The onsite construction work started in December 2009 with an extremely challenging deadline to meet. This deadline was met despite the additional problems of access into the 16th Signals SLA blocks due to the Regiment deploying on operations to Afghanistan.
Alongside the upgrades to the kitchens, additional power sockets have been fitted into each soldier's room and blinds have been fitted to the windows. One accommodation block has also had its entire ablution area refurbished, whilst others have had new shower rooms installed.
Following these improvements, funding has been reallocated to have 16 of the base's SLA blocks fully re-decorated. These refurbishments are scheduled to complete before 16 Signal Regiment return from Afghanistan later this year.
Published 19 May 2010