News story
Soldiers help teenagers break new ground in archaeology project
Teenage students have joined forces with soldiers injured in Afghanistan to help build their confidence and self-esteem by experiencing a groundbreaking archaeology project on Salisbury Plain.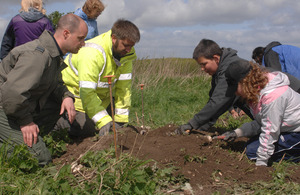 The Jon Egging Trust is expanding its Blue Skies programme through which selected disadvantaged teenage students get a unique opportunity to build confidence and self-esteem, foster ambition and achieve accredited training in work and life skills.
Flight Lieutenant Jon Egging ('Red 4') lost his life taking part in a Red Arrows' display at Bournemouth Air Festival in 2011. Wessex Archaeology's involvement with the charity set up in his memory was initiated by Jon's cousin, Kirsten Dinwiddy, who is one of the company's osteoarchaeologists.
With such an obvious link to Jon and following discussions with the Jon Egging Trust's founder Dr Emma Egging, Kirsten was eager to connect the Blue Skies programme with the highly successful DIO and The Rifles' Operation Nightingale.
As part of its programme, the Jon Egging Trust teamed up with Wessex Archaeology and the DIO, whose innovative work with The Rifles in using archaeology to boost injured soldiers' recovery inspired Kirsten to start the partnership.
Kirsten witnessed the great success of DIO and The Rifles' Operation Nightingale and, following discussions with Dr Emma Egging, thought that this could also be applied to the Blue Skies programme.
DIO Senior Historic Advisor Richard Osgood organised a practical archaeology day for teenagers from the Federation of Glenmoor and Winton Schools, in Bournemouth, who helped excavate the Iron Age midden site at East Chisenbury – a 2,700-year-old mound of feasting waste.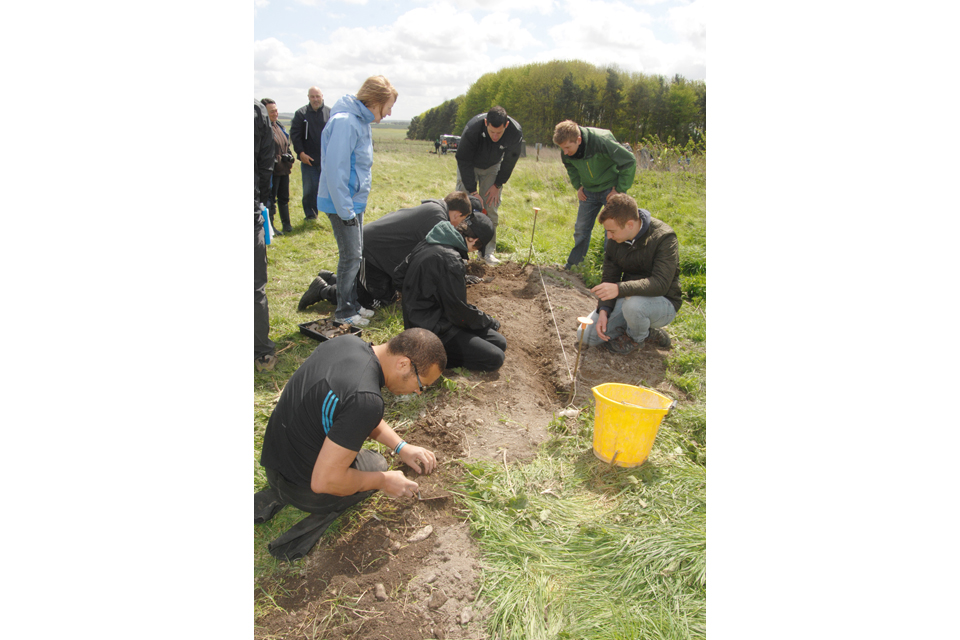 Richard Osgood said:
DIO's priority is to support our Armed Forces. Operation Nightingale has been a great success in helping soldiers return to their regiment or prepare for civilian life. It also helps the MOD fulfil its statutory obligations.

We've had a tremendous day with these young people and it has been clear that they have got a lot out of their experience. We hope that this taste of archaeology will help them build a sense of worth, purpose and confidence.
The group of 11 students, aged from 13 to 14, excavated the site, as well as recording and processing their finds – all under the guidance of some motivational and inspiring Operation Nightingale participants and veteran ex-Rifles.
Brad, aged 14, said:
It has been a really exciting day. I found some flint and pottery. The best bit is holding a part of history in your hand. I am learning teamwork and we are all helping each other. It is lots of fun.
Dr Emma Egging, widow of Red Arrows' pilot Flight Lieutenant Jon Egging, said:
It's fantastic to see children from the Federation of Glenmoor and Winton Schools on Salisbury Plain on such a beautiful day. The effects of working as a team and making discoveries really lifts them and I've certainly seen their confidence grow.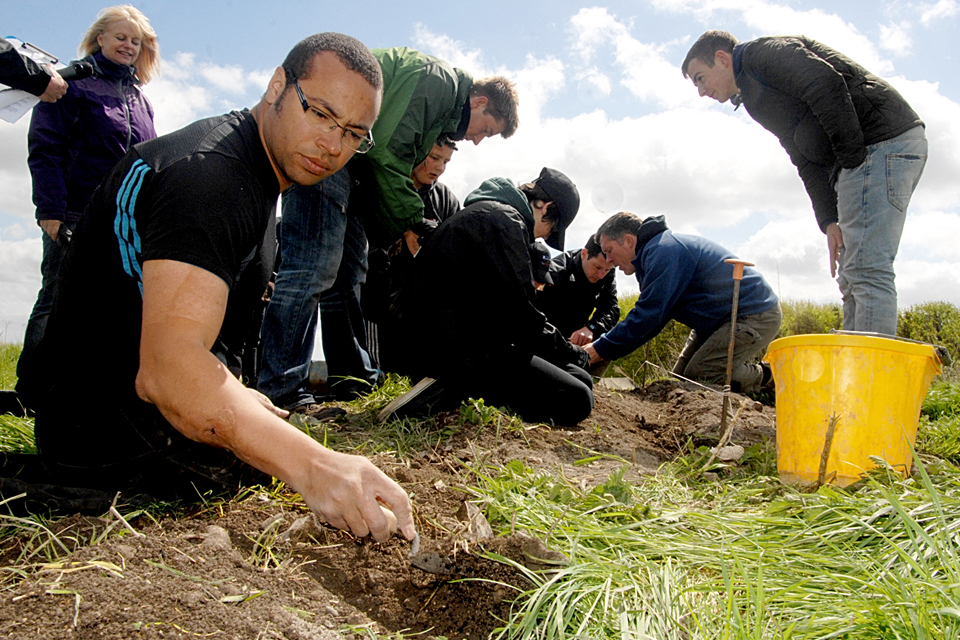 Lance Corporal Tyler Christopher, from 4th Battalion The Rifles, lost both of his legs above the knee as a result of an improvised explosive device detonating whilst serving in Afghanistan in 2009. He said:
This is the second year I've been involved with Op Nightingale. My best find was a Saxon spearhead which I unearthed at Barrow's Clump on another part of Salisbury Plain. I've always been interested in history and the environment, and this combines both, although it's something I didn't think I'd ever get into.

It's good to get outside; if I wasn't doing this I guess I'd be stuck indoors on my Xbox.
Serjeant* George Pas, a Territorial Army soldier serving with 6th Battalion The Rifles, became paralysed from his chest down following a road traffic accident in 2011. He said:
This is the fifth dig I've done. It's great to meet up with different people and stick around with military friends. I can't get out of the wheelchair, so it's my responsibility to clean and try and identify what gets dug up. It takes time to get your head around the fact that you can be the first person to see the artefact for thousands of years.

To see the pride in the faces of these schoolchildren from Bournemouth when they pull something out of the ground is quite something. If any other soldier ever gets the opportunity to go on an archaeological dig, they should definitely do it.
The valuable results of the students' efforts will be added to the archaeological archive and will contribute to the site interpretation, as Wessex Archaeology works with DIO to continue building a comprehensive picture of the region's fascinating past.
Wessex Archaeology works in a different way, and provides a different set of vocational experiences to those seen in the other Blue Skies sessions, thus broadening the students' experience.
*The spelling of 'Sergeant' with a 'j' is unique to The Rifles.
Published 14 May 2013