Soldiers help battle Brecon fires
Soldiers from the Infantry Battle School in Brecon were called on last week to assist in fighting devastating grassfires in the Brecon Beacons National Park.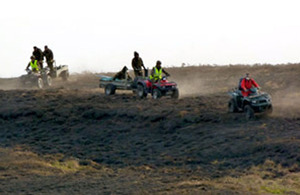 Nearly 2,000 acres (8 square kilometres) of upland common and peat bog were severely damaged by the fire, which devastated one of the area's most important heather moorland habitats that wardens have spent years trying to rejuvenate.
The fire was the worst heathland fire the park has seen in 30 years.
Eight soldiers with three quad bikes were assigned to the task, split over two locations covering three square kilometres, and fighting the blaze for more than seven hours.
The soldiers on their bikes were able to navigate the terrain with far more dexterity than traditional fire engines, transporting much needed water to the enflamed peat bogs, whilst also beating out flames.
Judith Harvey, Western Area Warden for Brecon Beacons National Park Authority, said that it had been extremely difficult for firefighters to access the area while the fires were still burning:
We couldn't extinguish the fire with beaters, while areas we thought we had put out were reigniting ten minutes later because of the conditions. Their help has been invaluable.
Efforts to douse the flames with water were hindered due to the fire's location away from passable roads, making it unreachable for firefighters, while the nearest water reservoir was too far for a helicopter water drop. Samantha Games, PR and Events Officer for the Park Authority said:
The Army really has been our last salvation to tackle the blaze.
Published 10 May 2011