Soldiers defuse record number of Taliban IEDs
A team of British Army bomb disposal specialists have found and rendered safe 12 improvised explosive devices (IEDs) during one operation in Afghanistan.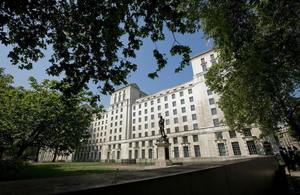 The result - the greatest number of IEDs to have been found and removed on any search so far on the current Operation HERRICK 13 tour - was the outcome of a high-risk clearance operation launched in the Gereshk area of Helmand province.
The devices, which ranged in size from 5kg to 15kg and were targeted at both vehicles and troops on foot, were found by a Royal Engineers Search Team.
All 12 were defused by Royal Logistic Corps Ammunition Technical Officer Warrant Officer Class 2 (WO2) Iain Martin.
The IEDs were all pressure-plate initiated and located within 300 metres of each other on a route known as the Bandi Barq road.
Also found, in addition to the complete devices, were two separate pressure plates and another main charge containing 5kg of explosive material.
WO2 Martin said:
This was a huge variety of IEDs, all within a short distance, and represented a real challenge for us. Our reward came when we had finished and an Afghan family came up onto the road with their herd of goats, looking around like they hadn't trodden on the land in years.

The local people have confidence in us and our work to improve their lives and that is a great feeling.
WO2 Colin Grant, Royal Logistic Corps, who was part of the team responsible for finding the devices, said:
This has been a great number of finds - the greatest number on a route search during this tour, in fact. Twelve IEDs removed in one route search operation is outstanding.
Lieutenant Colonel Mark Davis, Royal Logistic Corps, Commanding Officer of the Counter-IED Task Force, said:
The commitment, skill and bravery of all my teams never fails to amaze me. Day after day they are deployed to dangerous areas, searching for IEDs and making them safe.

We know we are having a positive effect, not just for our own troops but also for local Afghans who approach us and express their gratitude for the UK troops helping to make their lives more bearable.

There is still much to be done but we are hugely satisfied with the progress we have made. The key ongoing effort is to continue to develop home-grown Afghan capability in the battle against IEDs and we are making great progress in that area too.
Although this search was notable for the number of devices found, it is just one of many such operations undertaken frequently by British and Afghan forces in Helmand.
In a separate incident earlier this week another route was cleared in the area of Babaji.
This operation saw members of The Royal Highland Fusiliers, 2nd Battalion The Royal Regiment of Scotland (2 SCOTS), work in conjunction with members of the Counter-IED Task Force to clear a main route.
The effort saw a company from 2 SCOTS respond to insurgent resistance by manoeuvring into a known insurgent area to keep the fight away from the team of specialists clearing the route.
As a result, not only was the route cleared and three pressure-pad devices removed, but two insurgents were detained, and a rocket-propelled grenade (RPG) launcher and associated ammunition seized.
Later on, a number of locals came to the scene to thank the British troops. One local man said:
The insurgents regularly come into the village and threaten us. Thanks to ISAF and the ANP [Afghan National Police] we can now move around more freely without fear of being blown up and threatened by the insurgents.
Captain James Collinge of C Company, 2 SCOTS, said:
This operation successfully cleared a route of IEDs, which will provide the locals with better access to their homes and the main routes.

The insurgents suffered defeat following the arrest of two of their fighters and the recovery of an RPG and ammunition. We will capitalise on this achievement by keeping the insurgents away and bringing development and security in.
Published 14 January 2011