Soldiers and civilians square up in culinary challenge
Military and civilian chefs go head to head at the Army 3rd Division and 4th Division Field Catering Competition.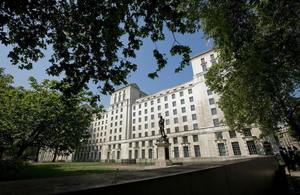 The aim of the competition was for master chefs to practise and enhance their field cookery skills and techniques by using ration packs of the type currently used by troops in Afghanistan, and a selection of fresh food.
23 military teams and seven civilian teams took part in this year's competition, which took place last week at Carter Barracks, in Wiltshire.
After two days of challenges, chefs from the 3rd (UK) Division Headquarters and Signal Regiment (3 (UK) DSR) were crowned the winners. This is the first time that 3 (UK) DSR has won the competition, and the team's captain, Corporal John Heard, also passed selection for promotion to sergeant on the same day:
I don't think it has sunk in yet because 3 Div has never won this competition, so it's a big thing,
he said.
We won the competition overall, the best forced march, and the best military skills, and I got selected today, so that's really topped my day off. I think I've got everything today that I've been hoping for the last year.
For the purpose of the competition, chefs were given an operational scenario that they were located in a Forward Operating Base in Helmand province. The scenario saw them warned that ten soldiers required feeding after having been on the ground for several days.
The chefs were tasked to produce a choice of two main courses and two deserts - one hot and one cold. The ingredients they had available included a mixture of 10-Man Operational Ration Packs and fresh rations such as butter, eggs, potatoes, apples and raspberries. The meals were cooked on the new Operational Field Catering Systems.
In the second scenario, the chefs were approached, at short notice, by the commanding officer, to provide food for a shura (a traditional Afghan meeting) attended by local dignitaries.
The challenge was to produce local Afghan finger foods with two different accompanying breads and dips for 20 people. The meals had to consist of hot and cold items, both savoury and sweet. The ingredients to be used were in a 'Magic Box', which the teams had no prior knowledge of.
The teams were judged on a number of different criteria including hygiene, food preparation, menu, timings, health and safety and use of materials, as well as speed, skill and imagination.
And being a chef in the British Army isn't only about the food…. all the competitors had their military skills tested the day before, with a navigation exercise and a March and Shoot competition, the scores of which contributed to the final overall results.
Published 26 July 2011