Soldier who defused IEDs with damaged hand awarded Military Cross
The incident occurred when a fully-manned Mastiff armoured vehicle was struck by an improvised explosive device in Helmand province in March…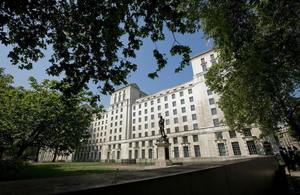 The incident occurred when a fully-manned Mastiff armoured vehicle was struck by an improvised explosive device in Helmand province in March 2010.
The Mastiff crew assessed the situation and it became apparent to them that not only had they been struck by an IED but that they were surrounded by them. Marooned in a minefield in hostile terrain, they were soon trapped under sustained and accurate enemy small arms fire.
It was at this point that Ammunition Technician Staff Sergeant Gareth Wood, 11 Explosive Ordnance Disposal Regiment, Royal Logistic Corps, and his counter-IED team were called in. After being flown by helicopter to the nearest patrol base he and his team knew that they had to work quickly as there were only a few hours of daylight left.
The bomb disposal expert quickly got to work but as he removed one of five explosive devices that stood between the stranded British patrol and safety the situation quickly deteriorated as he felt a searing pain in his right hand - the one he was using to search for the IEDs.
Staff Sergeant Wood had broken two fingers and lacerated his hand as he ripped the second of the IEDs he encountered that day from the ground.
Despite protestations from his fellow soldiers to return to base for medical attention Staff Sergeant Wood insisted on carrying on after only rudimentary first aid.
With one arm in a sling and his fingers in a splint, Staff Sergeant Wood rendered safe a total of five IEDs, enabling the stricken Mastiff crew to extricate themselves under the cover of darkness through the path that he had single-handedly engineered.
He said:
We still had bombs in front of us so I got my hand strapped up and used my left hand to search. I'd never searched with my left hand before, so it was quite interesting.

I carried on taking that device out of the ground and then moved on to the next one which wasn't quite where the infantry said it was, I nearly stood on it.
During his six-month tour in Helmand, Staff Sergeant Wood's bomb disposal team was 'blown up' four times, disposed of 52 bombs and completed more than 100 IED-related tasks.
Colonel Gareth Collett, Army Explosive Ordnance Disposal, said:
The actions of Staff Sergeant Wood described in his citation and throughout his tour are truly humbling and the award of the Military Cross is richly deserved. Conducting 'bomb disposal' under fire and with a significant injury in order to rescue trapped comrades is in the highest traditions of the Army; a true act of heroism conducted without thought to his own personal safety.
Published 5 October 2010