Soldier risked own life to save colleague under fire
A soldier who saved a colleague whilst under fire in Afghanistan has had his heroism recognised in the latest Operational Honours and Awards List.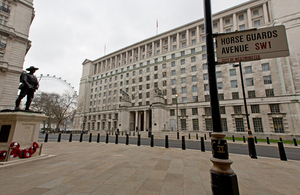 In November last year, Private Morales Matthews, aged 33, from 1st Battalion The Princess of Wales's Royal Regiment, was on patrol in what was one of the last remaining insurgent strongholds in Nad 'Ali when the soldiers were ambushed from several positions with small arms fire and grenades.
As the patrol sought cover, Private Matthews and two others moved to the east to identify the enemy positions and ensure the patrol was not overrun. But as the three ran across an open patch of ground they were attacked from another position 100 metres away.
As bullets landed all around them, one of the soldiers fell to the floor, apparently wounded. Rather than seek the safety of the wall in front of him, Private Matthews vaulted it and raced to the casualty's aid.
Private Matthews said:
My first thought was that he was dead. I called out his name three or four times but he didn't respond.

I felt angry. I was also in a vulnerable position. I had a light machine gun which can put down a heavy rate of fire.

I knew I had to be aggressive to protect my comrade, if he was still alive, and myself. After firing on the enemy, I had to get to him. He was conscious, so I felt relief and my focus then was to get him to safety.
Under constant fire, he adopted a position close to his colleague and returned fire, neutralising the threat and silencing the enemy position. This allowed the second soldier to run forward and extract their dazed but unhurt colleague.
Private Matthews, from the Caribbean island of St Vincent, covered their withdrawal, remaining in the open and in view of the insurgents throughout.
For his gallantry under fire he has been awarded a Mention in Despatches.
His citation states:
Matthews' actions were without regard for his own safety and were carried out in the face of extreme danger to save his friend and comrade. He knowingly exposed himself to the enemy and, perhaps of more significance, he remained calm, adopted a firing position and accurately identified and neutralised the enemy.

These actions effectively saved their colleague from wounding or death and allowed the patrol to safely extract from the engagement and back to their checkpoint.
Private Matthews said the tour was a complete success. He added:
We engaged a lot with the locals and gained their trust. We helped with humanitarian projects such as addressing the water shortage, and we drove the enemy from the area to enable the Afghans to take control of their own security.

Every objective we set out to achieve, we did, and everyone I deployed with came home to our loved ones.
The Mention in Despatches is one of the oldest forms of recognition for gallantry within the UK Armed Forces. Since 1993 the Mention in Despatches has been reserved for gallantry during active operations.
The latest Operational Honours and Awards List was released on 28 September and includes some 106 personnel. The awards are for actions taken during the period of Operation HERRICK 15 from 1 October 2011 to 31 March 2012. See Related News.
Published 18 October 2012