Soldier gets second chance on X Factor
Private Kerr has a unique opportunity to win The X Factor after unexpectedly being thrown a lifeline this week. Private Kerr was one of four…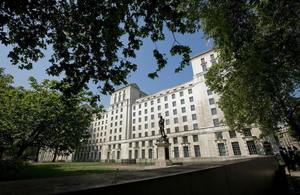 Private Kerr has a unique opportunity to win The X Factor after unexpectedly being thrown a lifeline this week.
Private Kerr was one of four acts eliminated by the judges in the first live show of the series, but has now been asked back to compete with the other previously eliminated contestants to replace finalist Frankie Cocozza, who has left the show after breaking competition rules.
Just hours after learning that he has another crack at stardom, Private Kerr admits that his feet haven't touched the ground, but reassures fans of the ITV series:
I'm really up for it. It's overwhelming. I'm really excited and I feel I need to come back and smash a performance. I feel like I owe it not just to myself, but to the Army and all the people who were counting on me to do well.
Private Kerr, aged 27, and representing the 'Over-25s', is up against fellow eliminated contestants James Michael (Boys), Amelia Lily (Girls) and 2 Shoes (Groups) in a phone vote which will decide who gets to rejoin the show.
The lucky 'winner' will then get the chance to perform a Queen classic or a Lady Gaga hit with the six remaining contestants.
Earlier in the series, during auditions, millions of TV viewers saw Private Kerr hugging his tearful and pregnant wife Melissa when he made it through, only to face disappointment when he was ditched by mentor Louis Walsh in the first live show.
After being eliminated, Private Kerr went straight back to his regiment in Warminster, Wiltshire, but said that he has been constantly recognised in the street and buoyed by compliments from strangers:
People tell me that I should have stayed and ask if I'm doing gigs or bringing out an album. It has always been positive," he said.
I just consider myself a normal person, so it's flattering and I've never let any of it go to my head. If someone wants to stop for a chat or a photo, I'm just grateful that they ask and remember me.
Speaking just two days ahead of his primetime TV appearance, Private Kerr said he is determined to do his best and not let nerves get the better of him:
I don't know the song yet, but I do know I will smash it," he said.
Private Kerr also knows that he has the rock-solid backing of troops across the Armed Forces and is grateful for the Army's sterling support:
They have been fantastic; they want me to do well and want the best out of every soldier. I work hard and they know how hard I'm willing to work. They are 100 per cent behind me and I'm really grateful.

Also, the lads have been out of this world. They were absolutely devastated when I got kicked off last time and I partly felt like I'd let them down, so I feel I want to show them, 'come on lads, if you want to see something, then watch this!'
Private Kerr joined the Army in 2009 and is a Warrior driver and gunner as well as a father of two young sons, Bradley and Dominic, aged just six and 20 weeks.
The bookies currently rate Private Kerr as an outsider to rejoin the show at 25-1:
At the moment, it's not looking good for Jonjo," said spokesman for William Hill, Joe Crilly.

We believe Jonjo's odds are just 100-1 of winning X Factor, but we do think that Jonjo will garner a lot of support from a public who are right behind the Armed Forces and from the troops.
Private Jonjo Kerr appears on The X Factor tomorrow, Saturday 12 November 2011, ITV1, at 2015hrs.
Published 11 November 2011