News story
Soldier from 33 Engineer Regiment (EOD) dies of wounds sustained in Afghanistan
It is with great sadness that the Ministry of Defence must announce that a soldier from 33 Engineer Regiment (Explosive Ordnance Disposal) died today, 18 April 2012, at the Queen Elizabeth Hospital Birmingham, from wounds sustained in Afghanistan.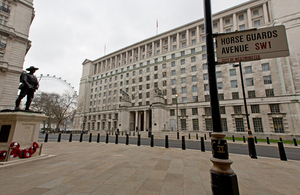 The soldier was seriously wounded in the blast from an improvised explosive device in Nad 'Ali on Wednesday 11 April 2012. He was flown back to the UK but died in hospital today as a result of his injuries.
Spokesman for Task Force Helmand, Major Ian Lawrence, said:
It is with a deep sense of regret that I must confirm the death of a soldier from 33 Engineer Regiment (EOD) who died of wounds sustained in an IED strike on 11 April 2012.
The thoughts and sincere condolences of the entire Task Force are with his family and friends.
The soldier's family have requested a period of grace before further details are released.
Published 18 April 2012