Soldier defies medics to complete marathon in the heat of Helmand
Major Al Jarvis, who broke his back in a parachute accident two years ago, completed 38 laps of the Task Force Helmand Headquarters in Lashkar…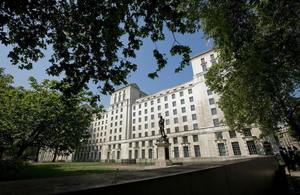 Major Al Jarvis, who broke his back in a parachute accident two years ago, completed 38 laps of the Task Force Helmand Headquarters in Lashkar Gah to make up the regulation 26.2 mile(42.16km) marathon distance.
Wearing his body armour and with temperatures above 30 degrees, Major Jarvis finished the course in 6 hours 25 minutes.
This is the second time Major Jarvis has run a marathon in Afghanistan but since his last attempt, the 37-year-old has had to recover from an injury so serious doctors said he would never again be able to race.
The married father of two almost severed his spinal cord back in 2008 when a parachute jump went horribly wrong. He also broke his hip and his leg and was left temporarily paralysed. Surgeons used metal rods and screws to repair the damage and Major Jarvis has endured countless hours of physiotherapy and treatment to get back to fitness to deploy to Afghanistan and complete the challenge.
Inspired by his determination, several members of Task Force Helmand also donned their military kit to join Major Jarvis for sections of the race.
Major Jarvis said it helped keep him going:
The support of the guys here [yesterday] has been brilliant. From when I started at 5am this morning, I've had someone alongside me. A couple of people had said they might tag along but I didn't expect them to do it in their body armour too!
As Major Jarvis neared the end of the race, a crowd gathered to watch him cross the makeshift finish line - made from toilet roll.
Coming round the corner for the last time to see everyone standing there cheering and clapping was fantastic. I'd also like to thank everyone back in the UK for all the messages of support I've had," he said.
After a shower and some lunch, Major Jarvis was back at his desk in the Provincial Reconstruction Team office where he works as part of the Military Stabilisation and Support Group.
All the money Major Jarvis has raised will be donated to Combat Stress - a charity which offers support to veterans suffering mental health problems.
Published 18 April 2011