Social 'trackers' to measure fairness in society
For the first time, a complete set of 'trackers' are being published to measure how well the government is doing in making society fairer.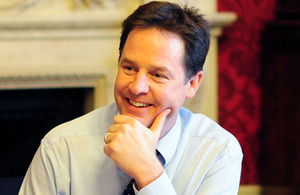 The Deputy Prime Minister, Nick Clegg, is putting fairness front and centre of the government's social policy, revealing a stark gap in life chances between the worst and better-off in society.
Unlike previous measures, the trackers will monitor the impact of the government's policies to tackle social mobility every year - instead of after a long time lag - acting as a regular 'health-check' on whether or not the UK is becoming fairer.
It's the first time that any government in the world has published such data. Up until now, data has been published sporadically, over longer periods of time, and in various places. Now, the data will offer an annual snapshot in a one-stop-shop.
The 17 trackers, or indicators, are contained in the government's first update on its social mobility strategy - Opening doors, breaking barriers: a strategy for social mobility - which puts the government's commitment to helping everyone get on in life at the heart of its social policy.
Deputy Prime Minister Nick Clegg said:
These are challenging times but that doesn't mean we can give up on making society fairer and helping people get on in life. In the past year, since we published the Government's first social mobility strategy, we've made great progress - school children are benefiting from a cash injection through the Pupil Premium, young people are getting into jobs and training through the Youth Contract, and we're expanding the number of families who get free childcare.

We must create a more dynamic society. One where what matters most is the person you become, not the person you were born. Government cannot do this alone, but we must take the lead. So we're exposing the stark gaps in life chances by publishing a wide range of tracking data to show how well society is doing here and now. No government has done this. The data shows we've got a long way to go, but that's why it's there - to hold a flame to our feet until the gaps close. It's not an overnight fix, but it is a long term ambition that is achievable.
The trackers will look at a raft of measures across the life cycle, focusing in particular on early years when a young person's potential can be damaged because the right support is not in place. New indicators included in today's publication include:
The data illustrates the current gaps in life chances between the worst and better-off in society. They will be used to show whether or not these gaps are opening or closing and to hold the Government, and everyone who has a role to play in making society more mobile, to account.
The update published today also includes extensive detail on action the government is taking across health, education and the economy to improve social mobility.
Actions taken by the Government since the publication of the strategy include:
doubling the number of free early education places to disadvantaged two year olds to cover up to 40 per cent of two year olds by 2014.
introducing the Pupil Premium to help support the most disadvantaged with total funding due to rise to £2.5bn a year by 2014-15.
launching a new £1bn Youth Contract to help young people who require extra help to earn or learn.
establishing a new framework to widen participation in higher education, including arrangements for new access agreements, with expenditure expected to rise to £620m by 2015-16.
almost 140 businesses signed up to the Business Compact to encourage employers to proactively open their career opportunities to young people from all walks of life.
The government has also created the new independent Social Mobility and Child Poverty Commission, which came into being on May 8, and will not only advocate social mobility but will also hold the Government, future governments and others to account.
Social Mobility is a measure of how free people are to improve their position in society and the Government is clear that there is a long way to go in making society fairer and more open. The Strategy sets out the Government's commitment to give everyone the opportunity to fulfil their potential, regardless of the circumstances of their birth, focusing efforts on the crucial points in a person's life where talent can be lost and opportunities wasted. 
The Strategy committed the Government to publishing a complete set of indicators on social mobility and the publication today presents them in full for the first time, including the most recent data on progress against them. The Government intends to continue to seek to improve and sharpen its indicators to ensure they are effective in measuring progress towards improving social mobility. A provisional set of seven indicators were published in the original strategy last year.
Notes to editors
1. "Opening Doors, Breaking Barriers: A Strategy for Social Mobility - Update on progress since April 2011" is available here.
2. The Deputy Prime Minister will deliver a speech this morning (Tuesday 22 May) hosted by The Sutton Trust in which he will speak in more detail on the report.
Published 22 May 2012