Press release
Soaring sales of Scottish beer celebrated at Royal Highland Show
Environment Secretary holds reception to celebrate the success of Scottish craft beer.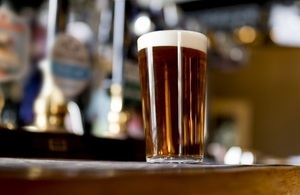 Environment Secretary Michael Gove toasted the success of Scotland's craft beer industry today as he attended the Royal Highland Show for the second year running.
With more than 100 breweries operating across Scotland – employing approximately 1,000 people – the Environment Secretary hosted a joint reception with Scotland Secretary David Mundell to celebrate this booming industry.
Craft beer is a huge export success story worth approximately £18 million to the economy. From the award-winning Innis & Gunn to the family-run, gluten-free Bellfield Brewery, some of the Scotland's most popular brewers attended the reception to showcase how their innovative techniques and unique taste is boosting the country's craft beer sales both at home and overseas.
Speaking after the Royal Highland Show, Environment Secretary Michael Gove said:
Scotland's drink industry already has a world renowned reputation, demonstrated by the global demand for Scotch whisky.
There has been a real froth of excitement over craft beers in recent years. It is fantastic to see Scottish brewers taking advantage of this boom.
Secretary of State for Scotland, David Mundell said:
It's been a real privilege to host a reception showcasing the best of Scotland's brewers. While top quality whisky is rightly synonymous with Scotland around the world, our beer industry deservedly has many plaudits for producing delicious craft ales.

Thanks to high quality ingredients, innovation and dedication of brewers, the sector's reputation is going from strength to strength and I was pleased to raise a glass to toast this key part of our iconic food and drink industry which does so much for our economy.
One of the companies that attended the reception is Edinburgh-based Innis & Gunn, who started brewing their award winning beers in 2003. Over the course of a decade they have expanded their range to include barrel aged beers, larger and IPA's and are now one of the nation's top exporters of beers, claiming the title of the most popular British bottled beer in Canada.
Award-winning brewers Harviestoun also attended the reception, having operated in Clackmannanshire, Scotland for over 40 years. The company exports their craft brew to 20 countries and uses their expertise to brew beer specifically for the USA market.
Dougal Gunn Sharp, Innis & Gunn Founder and Master Brewer said:
Since starting the business 15 years ago, Innis & Gunn has grown to be one of the UK's most successful international craft beer businesses. We are driven by a passion for flavour and craftsmanship, and our team take enormous pride in brewing craft beers that are renowned for quality in the UK and in over 28 export markets – including the USA, Canada, Sweden, France, and China – selling over 27 million bottles of beer annually and winning over fifty quality awards including Gold Monde, NYC Beer Awards, and many international beer awards, as well as accolades at home in the 2017 Scottish Beer Awards.
Stephen Boyle, Haviestou Director of Sales said:
At Harviestoun Brewery we have been independently craft brewing for 35 years, making internationally awarded beers, in the village of Alva. We pride ourselves on using only the best possible ingredients to make our beers. Today, our beers are enjoyed in 26 export markets around the globe and our plan is to further grow the Harviestoun Brewery brand in the UK and emerging world markets through the innovation, quality and attention to detail that has become synonymous with our beers.
The UK Government is committed to helping breweries – from small microbreweries to established enterprises – to export. Led by the Department for Environment, Food and Rural Affairs in partnership with the Department for International Trade and VisitBritain, the Food is GREAT campaign plays a key role in driving exports for UK produce overseas - increasing the demand around the world and positive public perception of our food and drink.
Today the Food is GREAT team sponsored the food pavilion at the Royal Highland Show, where they reached out to Scottish food producers to explain the exporting opportunities open to them.
While at the Royal Highlands Show, the Environment Secretary saw first-hand the best that Scotland has to offer in food, drink and agriculture – the nation's biggest manufacturer.
He visited the James Hutton Institute's stand and spoke about the opportunities innovation brings for sustainable food production; met the contenders in the livestock judging and spoke with leading figures in Scottish agriculture including the Scottish Organic Producers Association and NFU Scotland.  
Published 21 June 2018