Smoking in cars with children banned from today
To protect children from the dangers of secondhand smoke, it's now illegal to smoke in cars and other vehicles with someone under 18 present.
This news article was withdrawn on
This news story has been withdrawn because it's over 4 years old. See PHE's latest news.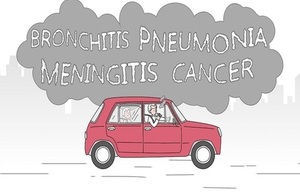 From today, new legislation in England and Wales makes it illegal to smoke in a vehicle carrying someone who is under 18. It is now also against the law for a driver not to stop someone smoking in these circumstances. The fine for both offences is £50.
The change in the law is to protect children and young people from the damaging effects of secondhand smoke, which can put them at risk of serious conditions such as meningitis, cancer, bronchitis and pneumonia, and make asthma worse.
Professor Dame Sally Davies, Chief Medical Officer, said:
This legislation is a landmark in protecting children from secondhand smoke. Smoking just a single cigarette in a vehicle exposes children to high levels of air pollutants and cancer-causing chemicals like arsenic, formaldehyde and tar, and people often wrongly assume that opening a window, or letting in fresh air, will lessen the damage.
The new law applies to any private vehicle enclosed by a roof, even if the window is open, the air conditioning is on or the smoker is sitting in the open doorway of the vehicle. It follows an experiment by Newcastle University, Public Health England and Fresh Smoke Free North East which revealed that even with a car window open, levels of dangerous chemicals were over 100 times higher than recommended safety guidelines.
Professor Kevin Fenton, National Director for Health and Wellbeing at Public Health England, said:
This experiment unearths shocking data, reflecting again that there is no safe way to smoke in a car with a child. Not matter what the situation, they will always be exposed to dangerous chemicals which can put them at risk of developing serious health conditions.
As guidance from the Department of Health explains, the new laws don't apply to e-cigarettes (vaping) or convertible cars that have the roof completely down.
From today, it will also be illegal for retailers to sell e-cigarettes or e-liquids to someone under 18 and for adults to try to buy tobacco products or e-cigarettes for someone under 18.
Published 1 October 2015