Government response
Smart motorways and enforcing variable speed limits
15 January 2015: The Highways Agency provided the following statement to a number of media outlets today, following interest in the use of speed camera enforcement systems on sections of smart motorways – this follows interest in road users on the M25 in Kent receiving fines from the police for breaking the speed limits. We provided the following statement to them: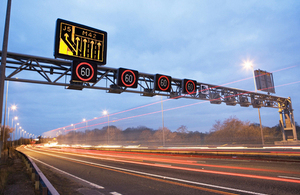 A Highways Agency spokesperson said:
Variable speed limits on smart motorways are primarily there to smooth traffic flow, reduce congestion and make journeys more reliable.

Hundreds of thousands of motorists use this stretch of the M25 every day. The vast majority are sticking to the speed limits and are experiencing better journeys as a result of smart motorways.

There are clear signs where cameras are in place and the new cameras are more visible than the previous versions.
Published 15 January 2015