World news story
Smart metering technology opportunities in Polish market
Seminar highlights opportunities for UK exporters as Poland looks to implement smart metering technology.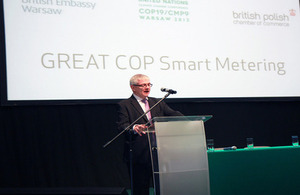 UK Trade & Investment (UKTI) Poland and the British Polish Chamber of Commerce co-organised an event dedicated to smart energy on 12 November 2013. This followed the opening on the previous day of the United Nations' climate change conference (COP 19) in Warsaw.
The focus of the event was smart metering, both as regards opportunities in Poland and UK experience in this area. Smart meters represent part of the solution for energy efficiency opening up opportunities for innovation in new products and services.
Poland is at an early stage of smart metering development. Major energy companies have started pilot projects, the results of which look promising. Kalisz can boast being the only city in Poland, which has fully implemented the smart metering programme.
Opportunities for UK exporters
The smart energy seminar highlighted a number of opportunities for UK exporters in the Polish market.
These include:
Providing smart metering equipment

Providing IT systems

Consulting services
The sector is worth according to various experts between £1-2.5 billion.
Energy challenges for UK and Poland
Both Poland and the UK face many challenges in the development of their energy markets.
Key challenges include:
efficient grid access

energy distribution
UK vision for smart energy
The UK Government's vision is for every home and smaller business in Great Britain to have smart energy meters. This will play an important role in the UK's transition to a low-carbon economy. It will also help the UK meet some of the long-term challenges in ensuring an affordable, secure and sustainable energy supply.
Smart energy seminar
The smart energy seminar was opened by Robin Barnett, British Ambassador to Poland and hosted by the City of Warsaw. A number of Polish and British experts and company representatives attended and delivered presentations.
Speakers included:
Lidia Pozłowska (Deputy President of UKE (Electronic Communications Office))

Roman Szwed PhD (President of Atende - a leading Polish company in smart metering IT)

Sebastian Janda (Energy and Smart Metering Expert from PricewaterhouseCoopers)

Professor Jonathan Radcliffe (Centre for Low Carbon Futures)

Cathal Griffin (Smart Metering Systems)

Gareth Evans (Cyan Technology)

Mikel Aquirre Calaramunt (Efergy)
Contacts
If you have innovative smart metering technology and are looking to develop your business in Poland contact: Karolina Pawlik
Published 15 November 2013