Press release
Small firms urged to explore Korean opportunities
UKTI launches Opportunity Korea programme of events around the country to help British businesses unlock trade opportunities in South Korea.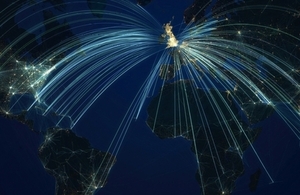 The Opportunity Korea programme of events around the country to help British small and medium sized businesses unlock trade opportunities in South Korea was launched today by UK Trade & Investment.
The initiative was launched with an event at Lancaster House in London, with speakers including Business Secretary Vince Cable, Trade and Investment Minister Lord Green and International Airlines Group Chief Executive Willie Walsh.
Four more events are being held this week in Edinburgh, Birmingham, Manchester and Bristol to highlight opportunities for SMEs and offer support and advice on exporting to South Korea.
Speaking ahead of the event, Vince Cable said:
South Korea is one of the world's biggest economies and I have seen for myself the dynamic pace of growth there, and the significant potential for British business this presents.
Investment in infrastructure projects and other major economic opportunities mean it is vital for UK companies of all sizes to maximise their own potential to export to South Korea. The skills, innovation and expertise we have in the UK can put us at the forefront of trade with this growing and vibrant economy.
Lord Green added:
South Korea is set to make the 10th largest contribution to world growth over the next five years and will become one of the most attractive export destinations globally. We want to see UK firms secure more successes this year and in the coming years. There here has never been a better time to start exporting to South Korea and I urge British companies of all sizes to explore their own potential and take advantage of the support UKTI can give them.
Willie Walsh, Chief Executive of International Airlines Group said;
I am delighted that British Airways has resumed services to Seoul six times a week. It's a booming city that offers fantastic opportunities for business and leisure with its industry, leading edge technology, excellent cuisine, fascinating history and rich culture. It is a mega city in every sense of the word – and British Airways is proud to provide the air links between the global powerhouse of South Korea to London via our home hub in award winning Terminal 5 at Heathrow.
Stephanie Hyde, head of UK regional business at Pricewaterhouse Coopers said:
With UK forecasts continuing their low trajectory, businesses already exporting to emerging economies such as China, India and Mexico, should look at increasing their activity to other regions. With strong industrial development and a growing, aspirational middle class, companies thinking of exporting to emerging economies like South Korea should be reassured that such markets can represent a significant opportunity to boost sales and increase profits.
By having the right package of support and putting export at the heart of their strategy, businesses can succeed in reinvigorating their financial performance.
As the 12th largest economy worldwide and the fourth largest in Asia, there is great potential for UK businesses of all sizes to do business in South Korea. The introduction of the EU-South Korea Free Trade Agreement and high recognition of UK brands and products, the country is potentially one of the top overseas markets for British companies with numerous and varied opportunities for export.
Delegates attending Opportunity Korea events will be able to meet and hear from experts in doing business in South Korea including the British Ambassador Scott Wightman. In addition, representatives from British businesses already operating in South Korea will be attending to share their insights on the routes and culture of doing business there.
Notes to editors
The Government's economic policy objective is to achieve 'strong, sustainable and balanced growth that is more evenly shared across the country and between industries.' It set four ambitions in the 'Plan for Growth' (PDF 1.7MB), published at Budget 2011:

To create the most competitive tax system in the G20
To make the UK the best place in Europe to start, finance and grow a business
To encourage investment and exports as a route to a more balanced economy
To create a more educated workforce that is the most flexible in Europe.

Work is underway across Government to achieve these ambitions, including progress on more than 250 measures as part of the Growth Review. Developing an Industrial Strategy gives new impetus to this work by providing businesses, investors and the public with more clarity about the long-term direction in which the Government wants the economy to travel.
UK Trade & Investment (UKTI) is the Government Department that helps UK-based companies succeed in the global economy. We also help overseas companies bring their high quality investment to the UK's economy – acknowledged as Europe's best place from which to succeed in global business. UKTI offers expertise and contacts through its extensive network of specialists in the UK, and in British embassies and other diplomatic offices around the world. We provide companies with the tools they require to be competitive on the world stage. For more information on UKTI, visit www.ukti.gov.uk or visit the online newsroom at www.ukti.gov.uk/media.
Opportunity Korea Programme

February 4th – 15:30-20:00 Lancaster House, London
February 5th – 10:30-15:00 Edgbaston Stadium, Birmingham
February 6th – 10:30-15:00 The Etihad Stadium, Manchester
February 7th – 10:30-15:00 MacDonald Roxburghe Hotel, Edinburgh
February 8th – 10:30-15:00 Leigh Court, Bristol

More information is available at www.opportunitykorea.ukti.gov.uk. Below watch a short video on doing business in South Korea.
Doing business in South Korea.
Korea facts
Korea is both high-income and high-growth – well suited to UK export strengths. It is 12th largest economy in the world by GDP and set to make the eight largest contribution to world growth over the next five years12th largest economy worldwide and the fourth largest in Asia.
UK trade in goods with Korea for the first ten months of 2012 is worth just less than £4 billion – an increase of 99% from the same period last year.
With the introduction of the EU-South Korea Free Trade Agreement and a passion for UK goods, the country ranks among the most lucrative and exciting overseas markets for British companies with numerous and varied opportunities for export.
Korea's population is highly educated. Seven per cent of the country's entire GDP is spent on education and nearly three quarters (74 per cent) of South Koreans undertake postgraduate-level study. This creates excellent opportunities for UK educational institutions.
The country is also a world leader in shipbuilding, steel and the automotive industries. Its construction and energy companies are increasingly successful overseas as well.
South Korea's rapidly ageing population and societal drivers for a healthier lifestyle ensure a wide range of opportunities, from the supply of branded drugs to over-the-counter supplements, and natural-ingredient-based products in particularly high demand. South Korea is a developed market for healthcare provision, offering niche opportunities in the supply of high­end equipment and telemedicine.
Global Sports – South Korea will host the Winter Olympics in 2018 in the city of Pyeongchang in Gangwon Province. British companies with expertise in managing and delivering major international sporting events are well placed to offer their services to the Korean organisers.
Korean culture is becoming cool. The Korean Wave is spreading from Asia to Europe and the US with the popularity of Korean films, soap operas and "K-pop" music leading to exports hitting a record $4.2bn in 2011. Psy's 'Gangnam Style' really broke through becoming number one in the UK and even featuring on the Today programme.
There are close to 50,000 South Korean citizens living in the U.K - the 12th-largest group of overseas Koreans in the world, and the largest in Western Europe.
Published 4 February 2013