News story
Small firms hiring more staff than ever
A recent survey of small businesses shows that firms are hiring staff faster than at any time since 1988.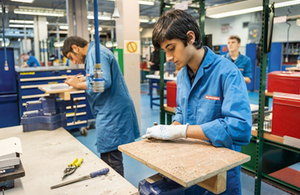 A recent CBI survey of small and medium-sized manufacturers reports another strong quarter of orders and output growth in the 3 months to July. Domestic orders and output both rose strongly, for the fourth consecutive quarter, and are expected to grow robustly again in the next 3 months.
In the survey, 34% of firms said that employment increased, while 9% said that it decreased - the balance of +24% is the strongest pace of growth since records began in October 1988.
Business is GREAT has some excellent advice and case studies of small companies that are growing and hiring more staff to meet demands.
Entrepreneur Tracey Longmuir gave up a job managing the accounts team for an international print management company to start up Isis Pet Care in Little Bytham, Lincolnshire. Starting a business is hard enough but Tracey had even greater challenges raising a child as a single mum following a relationship break-up.
Here is her story:
You can find lots more information and inspiration by looking at our guide - 'Small Business: GREAT Ambition'.
Published 4 August 2014