Press release
Small businesses given boost to generate bioenergy from wetlands
British companies get innovation funding to demonstrate new ways of turning plant-based material into renewable heat and electricity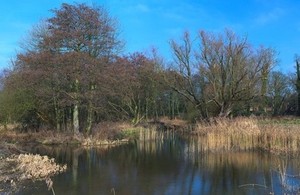 Three British companies have been awarded a share of over £1.3 million to spur on innovation in turning reeds and rushes from wetlands into bioenergy, Energy and Climate Change Minister Greg Barker announced today.
Contracts have been awarded to AMW IBERS, Natural Synergies and AB Systems, as part of a Department of Energy and Climate Change competition to help entrepreneurs demonstrate new ways of turning plant-based material derived from harvesting wetlands into renewable heat and electricity.
Sustainably sourced bioenergy has an important part to play in the UK's future energy mix, with the potential to contribute around 11% of the UK's energy demand by 2020. The winning companies will use the funding to test their project designs in three wetland areas in the UK, including Somerset, Suffolk and Inverness.
Energy and Climate Change Minister Greg Barker said:
The ability to turn plant material – that would otherwise have been burned or left to decompose – into a sustainable energy source is an important part of the move towards a low carbon economy.

I wish the winning organisations every success with their projects. These valuable initiatives will help to bring down the costs of this clean, green technology.
Dr Faisal Salam and Victoria Melchor, Directors of Natural Synergies Ltd, said:
We are very excited and delighted at being selected by DECC as one of the companies chosen to progress towards Phase 3 of the Wetland Biomass to Bioenergy competition.

The funding from DECC will enable Natural Synergies to establish a demonstration plant utilising wetland-based biomass as feedstock for developing a sustainable distributed energy system.
Jonathan Walker, Director of AMW IBERS, said:
I am really excited to be able to trial the innovative technology in Scotland, in particular Speyside with DECC funding. The project will help deliver positive conservation benefits to wetland sites, in particular Insh Marshes.
David A.T. Wynne, Director of AB Systems (UK) Ltd, said:
The funding received from DECC will enable us to build on existing technologies through the purchase and development of specialist low ground pressure harvesters and of a mobile briquetting plant.

It will provide us with the opportunity to undertake development trials and establish techniques for the conversion of a currently underutilized material produced from conservation management.
Notes for editors
Wetland areas are currently maintained in several parts of Britain to provide habitats for a range of wildlife including wading birds, water voles and warblers and the harvested material from these sites can be used to produce energy.

This is the third round of funding issued as part of the Wetland Biomass to Bioenergy competition, which was launched in October 2012 and is scheduled to finish in March 2015. The scheme aims to use plants already being grown and harvested in wetland areas and use them for generating power. As these plants are already being grown for conservation purposes new land is not being used up, nor is this resource competing with land for food crops or houses.

For Phase 3, AB Systems, based in Exeter, have been awarded £92,189; AMW-IBERS, based in Uddington in Glasgow have been awarded £147,407; and Natural Syneries, based in Redcar, have been awarded £187,570.

The UK bioenergy strategy sets out Government's framework for bioenergy policy.
Published 17 April 2014