'Small businesses are the backbone of our economy'
Minister for Implementation, Oliver Dowden MP, wrote the following article, slightly adapted below, for the Daily Telegraph (10 April 2018).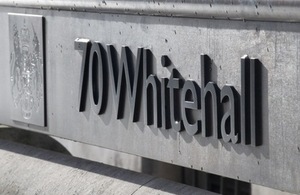 Since Carillion went into liquidation, we've taken a range of measures to keep the public services they provided on track, save thousands of jobs and negotiate around £1 billion of support from lenders for suppliers and subcontractors.
The Official Receiver is conducting an investigation into the cause of the company's failure, and once published these findings will help provide answers to all those affected.
Clearly, there will be lessons to be learned - but our approach will not be guided by ideology. There is a clear advantage for the private sector to assist in the delivery of high-quality public services.
Many vital infrastructure projects like roads, schools and hospitals have been delivered successfully by private companies, stimulating our economy, creating jobs and delivering better services for all.
In providing these services, it is the government's duty to ensure value for money for taxpayers. But this does not mean that we want to push suppliers into loss. Suppliers should expect a decent, but not excessive, rate of return.
It is also important that the government is able to call upon a diverse range of suppliers, of all sizes, willing to compete for our business. This will help drive innovation and ideas - and promote healthy competition in the market.
Small businesses are a vital part of this and I believe we can do more to support them. They are the engine of our economy, fuelling growth and employing 16 million people. That is why, in line with our modern industrial strategy, we have set a challenging aspiration that 33 per cent of procurement spend should be with small businesses by 2022. And this government is doing more than ever to break down barriers for small businesses that want to supply to the public sector.
We have already brought in changes to public procurement to make it easier for small businesses to supply government, including abolishing pre-qualification questionnaires, setting and meeting challenging targets for prompt payment by government and breaking down contracts into smaller lots, to make them more accessible.
In the most recent figures from 2015/16, government spent £5.6 billion directly with small businesses. Indeed, when sub-contracts to small businesses from larger suppliers was taken into account, total spend rose to £12.2 billion.
And we have set up services that enable companies to report poor commercial behaviour for investigation, as well as establishing Contracts Finder, the online advertiser for contracts.
But we want to go further and get more small businesses involved. That is why today we are launching a range of measures to encourage small firms to compete for government contracts. We will consult on how to exclude bidders from major government procurements if they cannot demonstrate prompt payment to their subcontractors. We will also require large suppliers to advertise subcontracting opportunities on Contracts Finder and report their spend with smaller businesses to improve visibility.
And as an indication of this priority to the Prime Minister, each government department will be required to have a dedicated Minister to champion small business spend.
Experience has shown us that small businesses deliver fresh, creative ideas that benefit us all. ADi Access, based in Cornwall, has developed audio descriptive products to help people with sight impairment to use public services - and has grown 300 per cent with public sector contracts.
Additionally, 4Net Technologies in Manchester - whose unique and agile approach has enabled it to win the contract to provide the phone service for Downing Street – has seen its turnover increase by over £12 million, thanks to winning government contracts.
We will continue to drive change to help diversify our supplier base, with small businesses playing a vital role in this, helping us to build a strong, viable private sector that delivers value for taxpayers and jobs for millions all over the UK. This Government is committed to doing all it can to help them flourish.
Published 10 April 2018