Press release
Skills and exports boost to maintain UK's global leadership in professional and business services
A new industrial strategy sets out how the UK can strengthen its position as a global leader in professional and business services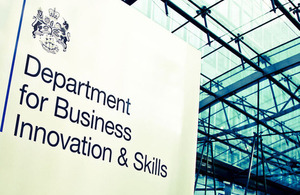 New industrial strategy promotes growth of UK's largest sector
UK Trade & Investment to lead trade missions for Professional and Business Services
Senior business leaders to promote UK plc overseas
Higher Apprenticeships in sector to treble to 10,000 per year in drive to boost skills and create new non-graduate routes into sector.
A new industrial strategy published today sets out how the UK can strengthen its position as a global leader in professional and business services (PBS). The sector is one of Britain's foremost success stories employing four million people and is worth more than £150 billion to the UK economy, contributing 11 per cent of GDP.
The strategy has been produced in partnership by government and businesses in areas like advertising, accountancy, legal services, management consultancy and recruitment. It is the latest step in the government's industrial strategy and follows the recent launch of strategies for construction, aerospace and nuclear power and other key sectors to secure sustainable future growth in the economy.
Two key areas are identified as priorities for ensuring the future strength of the industry – access to a diverse highly skilled workforce and increasing exports to emerging markets. Actions include:
The number of Higher Apprenticeships available to businesses, such as law, accountancy, consultancy and marketing firms, are set to be trebled to 10,000 a year over the next five years. This will give businesses access to a more diverse talent pool, which has up until now been reliant on graduates. It is expected that over the next 10 years, 600,000 additional jobs will be available in the PBS sector.
A new network of senior business envoys will champion UK capabilities and trade opportunities when overseas. UK Trade & Investment will also arrange trade missions specifically for PBS. This increased focus on trade promotion will build on the UK's position as an international hub of PBS firms. The sector was responsible for 10 per cent of all UK exports – £47 billion – in 2011.
Business Secretary Vince Cable said:
The professional and business services sector has been growing at four per cent for the last decade and we need to ensure this growth is sustained in the long-term. The government will provide support to make sure the sector has the skilled people it needs so that we can keep this success story going.
Despite challenging times, exports in professional and business services have more than doubled over the past decade. I want our top executives to think British in all their overseas business, particularly in emerging markets where a growing middle-class is demanding higher-quality services. If a British advertising agency runs a campaign in India, there will be a British legal firm available to finalise the contract, or British accountancy firm to handle the transaction.
PBS Council co-chair Sir Michael Snyder said:
The challenges and opportunities posed by the rise of the developing economies make it vital that the UK PBS sector is as competitive and adaptable as possible. An important part of meeting this challenge is widening access to PBS and increasing the diversity of our workforces and, therefore, our business leaders of tomorrow. This report contains concrete proposals for making this aspiration a reality.
The PBS sector comprises a range of sub-sectors, including businesses as diverse as accountancy, advertising, legal services and recruitment. In addition, the UK PBS ecosystem includes a significant small and medium sized business (SME) component.
In March, the government announced it was making £30 million available for SMEs to obtain business advice through Growth Vouchers. By improving access to high quality business advice through Growth Vouchers, the PBS sector will be able to facilitate growth in small and micro businesses, and encourage more businesses to export, leading to wider benefits for the economy.
The UK's PBS sector is already highly competitive internationally, and includes top international firms involved in advertising, accountancy, architecture, legal services, management consultancy and recruitment. For example, six of the top ten international accounting networks have a UK base. In the decade up to 2011, the sector's exports more than doubled from £22 billion in 2001 to £47 billion in 2011, and delivered a trade surplus of £19 billion – the highest of any country in the OECD.
Notes to editors
The industrial strategy for professional and business services, 'Growth is our Business', was written jointly by the government and the Professional and Business Services Council. The full strategy is available here https://www.gov.uk/government/publications/growth-is-our-business-professional-and-business-services-strategy

The PBS Council is chaired jointly by Lord Younger (Parliamentary Under Secretary of State for Intellectual Property, Department for Business, Innovation and Skills) and Sir Michael Snyder, Senior Partner, Kingston Smith LLP.

The PBS sector currently employs roughly four million people in the UK and is the country's largest economic sector – contributing 11 per cent of UK GVA (compared to financial services at 8 per cent and manufacturing at 10 per cent).

The PBS sector includes advertising, accountancy, consultancy, corporate finance advice, financial information services, legal services, public relations and communications and recruitment amongst others.

A list of members of the PBS Council is included in Annex C of the Strategy.
The government's economic policy objective is to achieve 'strong, sustainable and balanced growth that is more evenly shared across the country and between industries'. It set four ambitions in the 'Plan for Growth', published at Budget 2011:
to create the most competitive tax system in the G20
to make the UK the best place in Europe to start, finance and grow a business
to encourage investment and exports as a route to a more balanced economy
to create a more educated workforce that is the most flexible in Europe.
Work is underway across government to achieve these ambitions, including progress on more than 250 measures as part of the Growth Review. Developing an Industrial Strategy gives new impetus to this work by providing businesses, investors and the public with more clarity about the long-term direction in which the government wants the economy to travel.
Published 11 July 2013