World news story
Sketch of Edward VIII donated to the British Embassy Oslo
This was published under the 2010 to 2015 Conservative and Liberal Democrat coalition government
The British Embassy Oslo has received a sketched portrait of Edward VIII by the Norwegian artist Henrik Lund, dated 1933 in London.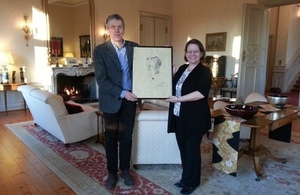 The portrait was donated by Mr Arne Kildal of the Watt Club (the alumni society of Herriott Watt University) who came to the embassy in person to present the framed drawing to the embassy's Deputy Head of Mission on Wednesday 4 December.
Kildal inherited the drawing from his stepfather Erling Konrad Stub-Orve. Orve had in turn received it from his parents, who were given the drawing by Lund in 1934. There is an inscription on the sketch stating it is a gift from Lund and his wife to Conrad Orve. Kildal was told by family members that Edward himself signed the portrait, rather than the artist Lund.
Edward, the eldest son of King George V and Queen Mary, was Prince of Wales at the time of the portrait. Born in 1894, he became King of the United Kingdom and the British Dominions in January 1936 after the death of King George V although Edward reigned for just one year before he abdicated the throne in December 1936. The Queen of Norway, Queen Maud, was Edward's aunt (the sister of George V) and Edward is known to have visited Norway in March 1914 for a ski expedition at Finse, where Sir Ernest Shackleton trained for his Endurance Antarctic Expedition.
Henrik Lund (1879-1935) was a Norwegian painter and graphic artist. Born in Bergen as the son of a lieutenant colonel and a pianist, he abandoned plans for a naval career when he was not accepted into the Norwegian Naval Academy and instead moved to Christiania. There he was tutored by a number of eminent painters and joined a group of artists known as Neo-Impressionists. He lived and worked in Berlin and Copenhagen, where he held several notable exhibitions. The National Gallery in Oslo owns 13 of Lund's works and others are on display at the Norwegian parliament.
Document information
Published: 10 December 2013