World news story
Sixth UK Education Fair
Sixth UK Education Fair was opened in Phnom Penh, Cambodia on Wednesday, 22nd January 2014.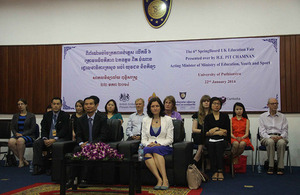 With the aim of encouraging more Cambodian students to access to the globally-renowned UK education system, Chargée d'Affaires Dr. Bryony Mathew officially opens the Sixth UK Education Fair in Cambodia on Wednesday, 22nd January 2014. This fair is organized by SpringBoard4Cambodia with the support of the British Embassy.
The Fair is an annual event which brings together leading UK educational establishments, Cambodian schools and universities, and students in order to bring the UK's high quality education to Cambodians.
A delegation of 14 UK colleges and universities plus two prestigious British English Exams, IELTS British Council and Cambridge English, are joining the Fair. They are visiting Cambodian schools and universities around Phnom Penh to provide information including a wide range of courses, degrees and scholarships available to students who would like to pursue educational opportunities in the UK.
This year's Fair also incorporates the Second English Speaking Championship, which is aimed at promoting English proficiency and developing leadership and public speaking skills. The Chargée d'Affaires will preside over the grand final of the competition on Thursday, 23rd January 2014 at the Chaktomuk Convention Hall.
Attending the Fair and English Speaking Championship, the Chargée d'Affaires said:
I'm delighted to be able to help promote opportunities for Cambodian students interested in studying in the UK. UK universities are globally renowned for their excellence in innovation, research and teaching, and the UK is now home to four of the top ten universities in the world so it really is a fantastic place to study.
Published 23 January 2014