Six-month-old baby christened onboard Navy submarine
The submarine was delighted to stage the christening of Evie Francesca, the daughter of the vessel's sonar petty officer, Keith Pearson-Roselle…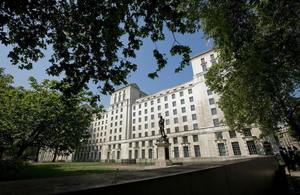 The submarine was delighted to stage the christening of Evie Francesca, the daughter of the vessel's sonar petty officer, Keith Pearson-Roselle, and his wife Britta.
The Royal Navy's baptism tradition dates back several hundred years when baptisms were carried out in foreign ports or for infants born at sea. Another aspect of the tradition calls for the child to be baptised in the ship's bell and the name of the child and the date is then engraved on the inside of the bell.
The ceremony for Evie Francesca was staged in the submarine's control room and conducted by the vessel's Royal Naval chaplain, the Reverend Mike Brotherton.
Evie's mother was particularly pleased with the success of the day. She said:
The whole day ran so smoothly and was such an unforgettable and special experience. Everybody that we came into contact with was friendly, professional and not to mention patient.

I can't thank all concerned enough. From the first moment Keith approached the captain for permission, to the final moment we all disembarked Triumph, everything ran smoothly and without fault.
After the ceremony guests were invited to the senior rates' mess onboard - kindly given up for the afternoon.
This is the first baptism to be held onboard HMS Triumph since 2004, but three other baptisms were conducted onboard the submarine during her first commission between 1991 and 2004.
HMS Triumph is a nuclear-powered Trafalgar Class submarine.
Published 11 October 2010