World news story
Situation Vacant
A vacancy arose for the position of Pro-Consul/Digital Diplomacy Officer/IT Support Officer on a full time basis at the British Embassy.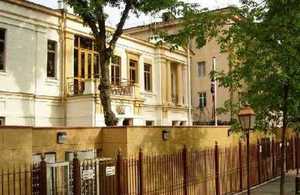 The successful candidate will have several responsibilities and be expected to work as:
a) Digital Diplomacy Officer: in the Political & Public Diplomacy Section in the British Embassy, leading on all digital media engagement to support Embassy strategic communications objectives. The work involves proactive and innovative use of social media to support British Embassy activity in Uzbekistan.
b) Pro-Consul: assistance to British Nationals (BNs) and Eligible Persons within Uzbekistan, across the full range of consular assistance cases including amongst others, deaths, hospitalisations and custodial matters, in line with Foreign and Commonwealth Office (FCO) guidance and local conditions.
c) IT Support Officer: maintain and act as Systems Administrator Embassy IT equipment and support staff on IT issues.
Candidates must have proven track record for high standard customer service, excellent listening and communication skills, an ability to deal with distressing or difficult situations in a sensitive manner. Excellent IT-proficiency and experience is a must, as well as abilities to multi-task, work independently and accurately with attention to details. Also, candidates are expected to be experienced problem solvers, have good self-management and organisational skills, with an ability to plan and prioritise effectively with competing workload under pressure.
Native Russian and Uzbek language skills are essential with excellent written and verbal English.
Please apply in writing with a covering letter explaining why you want the position and why you think you'd be good at it, along with a copy of your CV and two passport sized photographs by 5:00 pm on Friday, January 31, 2014 to:
Alisher Utemisov, Corporate Services Officer (British Embassy, 67 Gulyamov Street Tashkent)
Only applicants selected for interview will receive communication from the Embassy.
Published 13 January 2014