Situation in Egypt and the impact on the region
In his video blog this week, Foreign Secretary William Hague speaks about the situation in Egypt and its impact on the region and the Middle East Peace Process.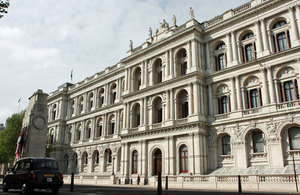 Foreign Secretary said he deeply deplored the violence in Egypt and had called many times on the authorities to avoid repression.
He called on the Egyptian government to address the grievances of the Egyptian people and to begin an orderly transition to free and fair elections, adding that the UK is "disappointed that the new cabinet didn't signal sufficient change."
The Foreign Secretary also talks about recent protests in Tunisia and his recent visit to Syria, where he spoke with Syrian President Assad on the issues confronting the region.
On the stalled Middle East Peace Process the Foreign Secretary said the focus was on getting the peace process going again.
"We continue our work to prevent conflict and build peace in the Middle East, advocating human rights, freedom and democracy."
Published 3 February 2011