Sir Peter Bazalgette appointed chair of Arts Council England
Sir Peter Bazalgette has today been appointed as Chair of Arts Council England.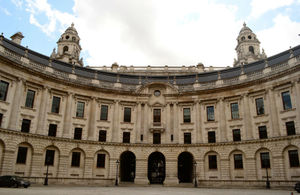 Sir Peter Bazalgette has today been appointed as Chair of Arts Council England. The Chair provides strategic leadership to the Arts Council and acts as an ambassador and advocate for arts and culture in England.
Sir Peter said:
"2013 will be an excellent time to join the Arts Council, following the success of the London 2012 Festival and the launch of The Space in 2012.  Sustaining our vigorous arts and cultural sector is admittedly a challenge but one I greatly look forward to."
Sir Peter Bazalgette's appointment will be a four year term, from 1 February 2013 to 31 January 2017.  The position carries a remuneration of £40,000 per annum, for a time commitment of up to two days per week.
The appointment was made by Culture Secretary Jeremy Hunt, with the approval of the Prime Minister.
Notes to Editors
Biographical information
Sir Peter is currently chair of English National Opera and Non-Executive Director of the Department for Culture, Media and Sport.  Sir Peter also has experience of museums having chaired the Crossness Engines Trust, a steam attraction in South East London.  He serves on the advisory board of The Space, a joint venture between Arts Council England the BBC. He is also president of the Royal Television Society and a former Non-Executive Director of Channel 4. 
This follows a lifetime in television production where he was creative director of Endemol up to 2007 and the creator of several television formats.  He retains several commercial interests including a start-up company called MirriAd which deals with digital product placement.  He was knighted for his services to Broadcasting in 2012.
Sir Peter will succeed outgoing chair Dame Liz Forgan, who has chaired the Arts Council since 1 February 2009.  She will remain in the role until her four year tenure comes to an end on 31 January 2013.

Under the Arts Council's Royal Charter, the organisation's chair is appointed by the Culture Secretary, regulated by the Commissioner for Public Appointments and in accordance with the Commissioner's Code of Practice (the 'OCPA Code'). 

The role of the chair is to give strategic leadership to Arts Council England, developing its policies and acting as an ambassador for the arts.

The appointment has been made in accordance with the OCPA Code of Practice.  All appointments are made on merit and political activity plays no part in the selection process. However, in accordance with the original Nolan recommendations, there is a requirement for appointees' political activity (if any declared) to be made public.  Sir Peter Bazalgette has not declared any such activity.
Press Enquiries: 020 7211 2210
Out of hours telephone pager no: 07699 751153
Public Enquiries: 020 7211 6000
Published 4 September 2012