World news story
Sir Joe French unveils Visitor Information Panels at Kanchanaburi war grave cemetery
This was published under the 2010 to 2015 Conservative and Liberal Democrat coalition government
Vice-Chair of CWGC and former Commander In Chief of the Royal Air Force Strike Command Sir Joe French visits Thailand.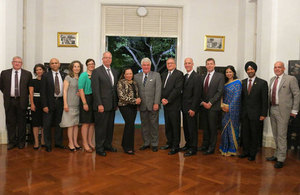 Sir Joe French, Vice Chair of the Commonwealth War Graves Commission (CWGC), visited cemeteries at Chungkai and Kanchanaburi to unveil new Visitor Information Panels. The panels provide visitors with a brief history of the sites and 'The Death Railway'. Also during this short trip to Thailand Sir Joe took the opportunity to meet with ambassadors and representatives from the CWGC member states at a dinner hosted by His Excellency Mr Mark Kent, British Ambassador to Thailand.
Some 13,000 prisoners of war from the Commonwealth, Holland and the US died during the construction and maintenance of the notorious Burma-Siam railway. The graves of those who died (except for the Americans, whose remains were repatriated) were transferred from camp burial grounds and isolated sites along the railway into three cemeteries at Chungkai and Kanchanaburi in Thailand and Thanbyuzayat in Myanmar. An estimated 80,000 to 100,000 civilians from Malaya, the Dutch East Indies and those conscripted in Siam also died being forced to work to complete the Burma-Siam railway.
The CWGC ensures that 1.7 million people who died in the two world wars will never be forgotten. CWGC care for cemeteries and memorials at 23,000 locations, in 153 countries. The values and aims of the organisation were laid out in 1917, and are as relevant now as they were almost 100 years ago.
The Commission's principles:
Each of the dead should be commemorated by name on the headstone or memorial
Headstones and memorials should be permanent
Headstones should be uniform
There should be no distinction made on account of military or civil rank, race or creed
Six member governments make up the Commonwealth War Graves Commission: Australia, Canada, India, New Zealand, South Africa and the United Kingdom. The cost of the Commission's work is met by the member governments in proportion to the number of their war graves. The Secretary of State for Defence in the United Kingdom is the chairman of the Commission. Each of the other member governments appoints its High Commissioner in London to be its Commission representative. This year is globally important as we enter the centenary period for the 1st World War.
Further information
CWGC Communications Department:
Email: media@cwgc.org
Telephone (during working hours): +44 (0) 1628 507171
Or on mobile: +44 (0) 7812 369483
Document information
Published: 17 October 2014