Sir Jock Stirrup praises troops in Afghanistan
Air Chief Marshal Sir Jock Stirrup has praised the UK's Armed Forces for their progress in Afghanistan during his last visit to theatre before he steps down as Chief of the Defence Staff.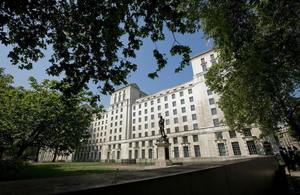 Sir Jock met with the Commander of ISAF, General David Petraeus, and Deputy Commander of ISAF, Lieutenant General Sir Nick Parker, in Kabul, before spending time in Kandahar and Helmand where he spoke to troops serving on the front line.
Keen to spend as much time as possible with the troops on the ground, Sir Jock headed for Sangin where he visited 40 Commando Royal Marines.
Sir Jock flew to the Combined Force Nahr-e Saraj (South) headquarters and was briefed by Major Dave Jones on the protected community concept and how the local village of Piand Kalay had benefited from this.
Sir Jock travelled by Mastiff to the village of Piand Kalay to see the benefits of the community concept first-hand and witnessed a veterinary clinic being conducted by soldiers from the Royal Army Veterinary Corps.
He also visited a new Afghan National Police station where members of the local population had been recruited and were now helping to secure their village.
Addressing troops of the Combined Force Nahr-e Saraj (South) Battle Group, Sir Jock said:
In 2006 Camp Bastion was nothing more than an open expanse of desert with a few tents and a landing strip; Sangin, once a ghost town, is now a thriving market place, and here in Piand Kalay, which only a year ago was controlled by the Taliban, the local population are living in a safe and secure environment.
The changes I have witnessed in Helmand province over the last four-and-a-half years are a clear sign of the campaign progress that has been achieved.
The final forward operating base visit for Sir Jock was to Combined Force Nad 'Ali (South) and Corunna Company, 1st Battalion The Duke of Lancaster's Regiment, based in Patrol Base Samsor.
He was briefed on the success of Operation TOR SHEZADA before moving by Ridgback to Check Point Azadi manned by soldiers from 9 Platoon, Corunna Company.
Here Sir Jock had a tour of the base and lunch with soldiers from 9 Platoon before trying on a full combat load of weapons and body armour, which allowed him to briefly experience first-hand the extremes of life in a remote checkpoint in the middle of the Afghanistan summer.
Sir Jock finished his 30th and final trip to Afghanistan in Camp Bastion with an address to all UK staff in Headquarters Joint Force Support and a visit to the staff and patients at the Role 3 hospital.
He said:
I would like to take this opportunity to pay tribute to the dedication, commitment and sacrifice of our forces here in Afghanistan.
I am immensely proud to have been involved in this campaign since our arrival here, in Camp Bastion, in 2006. You should all take incredible pride in what has been achieved.
Sir Jock will stand down as Chief of the Defence Staff in October 2010 and will be succeeded by the current Chief of the General Staff, General Sir David Richards.
Published 13 September 2010