World news story
Sir James Bevan to take your questions live on Twitter
British High Commissioner to India Sir James Bevan KCMG, who made his debut in the world of social media last year, will be answering your questions live on Twitter.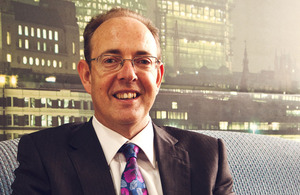 Sir James' Twitter handle is: @HCJamesBevan
He will be happy to answer questions across a broad range of topics, reflecting the breadth of the ties between the UK and India. Topics could include business links, visa policy, education opportunities, science and research partnerships, tourism and British and Indian cultural ties.
Sir James will answer your questions via Twitter on 30 May 12.30 - 13.30 (IST) @HCJamesBevan. You can submit your questions using hashtag #AskHC.
Further Information:
Marcus Winsley, Director, Press and Communications, British High Commission, Chanakyapuri, New Delhi 110021, Tel: 44192100; Fax: 24192411
Mailto: Deepti.Soni@fco.gov.uk
Published 20 May 2013