Press release
Sir David Attenborough showcases latest work in British Embassy
The embassy hosted an exclusive screening of clips followed by a talk with Britain's best-known natural history film-maker.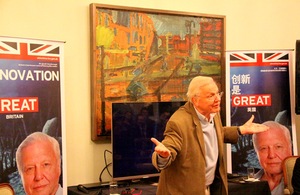 Today (15 January, 2013), addressing a crowded room of excited professionals from NGOs, green business and technology, the film industry, and Embassy staff, Sir David talked about his recent projects and his current trip to China. During his time in the country, he is travelling with his producer, Anthony Geffen, to Yunnan and Liaoning to make a new series Rise of Animals (working title) about the evolution of vertebrates for the BBC. It is a follow-up to the triple Emmy-Award winning series First Life, shown worldwide by the BBC.
During the event, he spoke about several of his ground-breaking 3D series with Atlantic Productions. His collaboration with Anthony Geffen and Atlantic Productions is the first time in his career that he has worked with an independent production company. Their first 3D collaboration was Flying Monsters 3D, produced for Sky. It won them an British Academy of Film and Television Arts (BAFTA) Award – the first BAFTA to have been awarded to a 3D project. Flying Monsters 3D is now playing in Giant-Screen cinemas worldwide. Today, many believe Britain leads the world in the production of 3D television content, led by Atlantic Productions. Their most recent series for Sky / Colossus was filmed in one of the most extreme and hard-to-reach locations in the world: the Galapagos Islands. The audience had the chance to see clips from the film, which uses pioneering 3D-techniques and technology to take viewers on a spectacular journey exploring the unique environments and species on the islands.
Throughout his career, Sir David has championed breakthroughs in innovation and technology. These breakthroughs have enabled him to push new boundaries in filming the natural world and illustrating, amongst other things, global climate change. His illustrious career over six decades has taken him to every corner of the globe. He has become the world's leading natural history programme maker with several landmark BBC series. His most-known works include: Planet Earth, Trails of Life, Living Planet and Survival Island – more than 55 in total.
British Ambassador to China, Sebastian Wood, who hosted the event said:
I am delighted to have Sir David here today. He personifies the unique spirit of innovation and creative energy that gives the UK an appetite to challenge and invent. We hope that his new series about China will excite and engage audiences around the globe.
The event took place as part of the GREAT campaign, an initiative launched by Prime Minister David Cameron that invites the world to take a fresh look at everything Britain has to offer. It centres on areas of British excellence in education, business and tourism.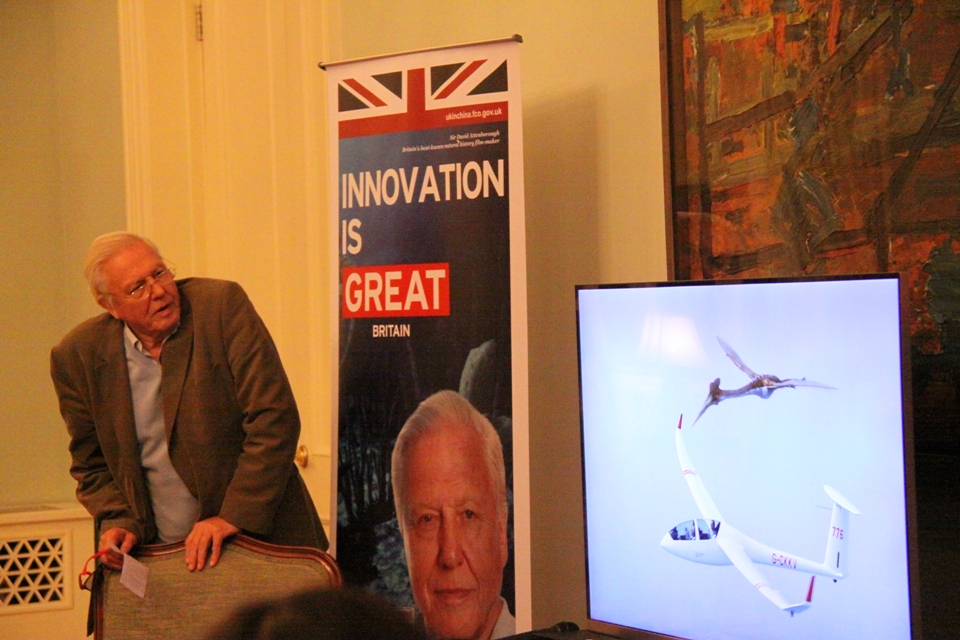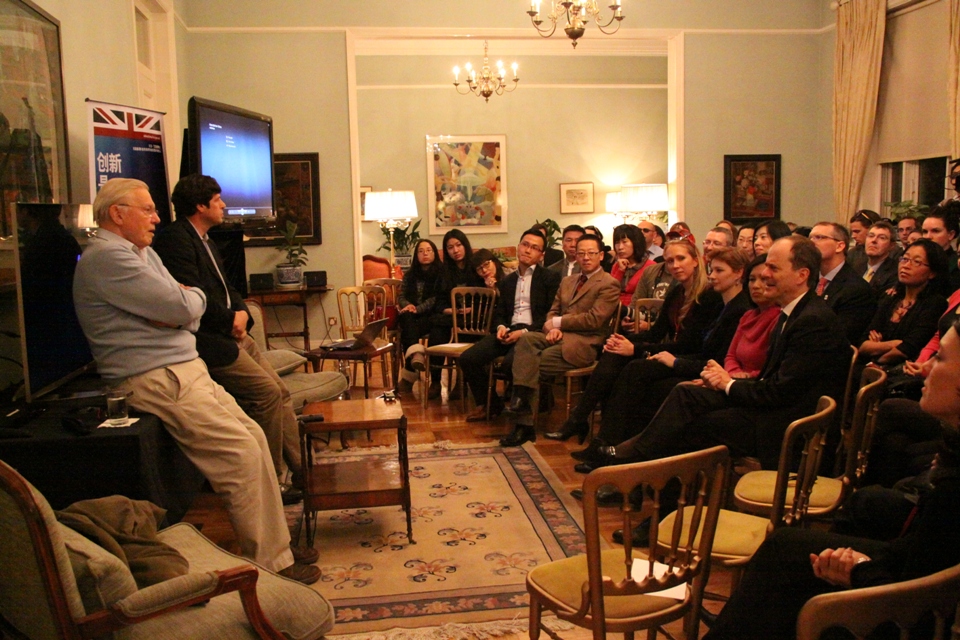 Published 15 January 2013