Sir Chris Hoy takes to the skies in an RAF Typhoon
Olympic gold medallist Sir Chris Hoy is used to speed, but even Britain's premier cycling champion was thrilled by a ride in an RAF Typhoon.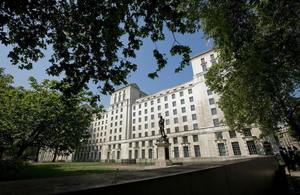 Six-time Olympic gold medallist Sir Chris Hoy experienced speed of a different kind with a flight in a Royal Air Force Typhoon multi-role combat aircraft of 6 Squadron during a visit to RAF Leuchars in Fife.
The main task for 6 Squadron and RAF Leuchars is to maintain a Quick Reaction Alert Force, with crews on standby 24-hours-a-day, 365-days-a-year to scramble and intercept unidentified aircraft approaching UK airspace. During the Olympic Games, Typhoon aircraft were based at RAF Northolt in West London on standby to provide air security.
Sir Chris said:
I am absolutely delighted to have had such a warm welcome to what is a very busy RAF station.

Flying in the Typhoon was a really extraordinary experience and one I will never forget.
Talking on Twitter later, Sir Chris added:
What a day! A ride in a Typhoon fighter jet has to be one of the most spectacular experiences I've ever had. Thanks to all at RAF Leuchars!

Everyone at RAF Leuchars was so friendly and helpful, thank you all for making the day so memorable.
Wing Commander Roddy Dennis, Officer Commanding 6 Squadron, who flew the Typhoon aircraft, said:
Our front line Typhoons are single-seat, multi-role aircraft but we have some twin-stick jets for training purposes and it was a pleasure to give one of our Olympic gold medal winners the opportunity to experience flying in the aircraft that has been providing air security throughout the London Games.

Just as Chris has a backroom staff who ensure that he and his bike are in perfect shape to win gold, as a pilot I am reliant on my RAF colleagues, from the engineering bays to the air traffic control tower, to ensure that I and my aircraft are primed to deliver our mission - defending the UK skies.
Sir Chris also visited the RAF Leuchars Youth Project where the children of RAF personnel and from the local community were enjoying a mini-sports day with an Olympic theme organised by the station's youth worker.
The youth worker is provided by the Airplay project, a youth support programme funded by the Royal Air Force Benevolent Fund (RAFBF), the RAF's leading welfare charity. Members of the station cycling club also got the opportunity to meet our most decorated Olympian.
Sir Chris said:
It was great to meet young people and families who live on the station. I think we all know that the RAF is heavily committed in Afghanistan and elsewhere, but we can sometimes forget the families who are left behind. That's why I'm delighted to see the RAFBF providing young people with sporting and creative activities through its Airplay project.
"Being active and stimulated is really important in young people's development, and it really helps take some of the strain off busy RAF parents too."
Published 23 August 2012