News story
Sir Brendan Barber reappointed chair of Acas
Sir Brendan Barber has been reappointed as chair of the Advisory, Conciliation and Arbitration Service Council.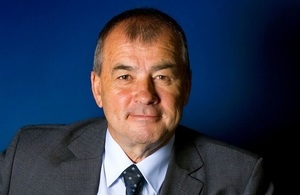 The government today (5 December 2016) announced the reappointment of Sir Brendan Barber as chair of the Advisory, Conciliation and Arbitration Service (Acas) Council.
Sir Brendan, the former General Secretary of the Trades Union Congress (TUC), has been chair of Acas since 2014 and has agreed to stay in post for another 3 years from January 2017 until the end of 2019.
Acas is an independent public body which offers conciliation services between businesses and employees and provides best practice advice on all aspects of workplace relations.
Last year Acas was involved in more than 92,000 individual and 970 collective disputes.
Business Minister Margot James said:
I am very pleased Sir Brendan has accepted a second term as Acas chair and will continue to bring his considerable experience in dispute resolution to this important post.

Acas plays a key role in helping to maintain a competitive, effective and fair labour market and I very much look forward to working with Sir Brendan in the years to come.
Sir Brendan said:
I am delighted to be continuing as chair of the Acas Council. Acas plays a crucial role in promoting best practice at work and helping to prevent and resolve thousands of workplace disputes every year.

Our services are highly valued by those who use them and for every £1 we spend, there is at least £13 benefit to the economy.

The Council sets out Acas' strategic direction, policies and priorities. I look forward to continue working with Council members to maintain Acas' reputation as Britain's leading advisory service on workplace relations.
Further information:
Sir Brendan Barber biography
Sir Brendan Barber has been Acas chair since January 2014. He is a member of the Board of the Mountview Academy of Theatre Art and is currently a member of the Council of City University London which he graduated from with a BSc in Social Sciences in 1974. He was appointed a board member of the Banking Standards Board in April 2015 and has served as its deputy chairman since March 2016.
His career has been almost exclusively within the TUC where he held the post of General Secretary from 2003 to 2012. Additionally, he sat on the Acas Council from 1995 to 2004, the Board of Sport England from 1999 to 2003 and the Court of the Bank of England from 2003 to 2012.
Sir Brendan is a Visiting Fellow at the Said Business School, Oxford University, and a Visiting Fellow at Nuffield College, Oxford. In 2007 he received an Honorary Doctorate from the City University.
Sir Brendan was knighted in the 2013 Birthday Honours for services to employment relations.
Acas and the role of the Acas Council
Acas is an independent non-departmental public body (NDPB) and the Acas Council is the overarching governance body for Acas. The council consists of 12 members, including the chair, and membership is drawn from employer, employee and independent backgrounds.
Acas aims to improve organisations and working life through better employment relations. It provides 3 main services:
advice on workplace matters through a helpline which received 943,500 calls in 2015 to 2016 and a website with around 10 million visitors annually
conciliation services which help resolve disputes between employers and individual employees or groups of employees – last year Acas received 92,172 notifications of individual disputes and was involved in 970 collective disputes
tailored training and advice for individual organisations. In 2015 to 2016, Acas trained over 34,000 delegates
Links to government
Acas is independent of ministers, but is one of the Department for Business, Energy and Industrial Strategy's key partners. Acas' services contribute to delivering a competitive, efficient and effective labour market which supports economic growth and employment.
Published 5 December 2016