Press release
Sir Brendan Barber appointed new Acas Chair
Business Secretary Vince Cable announced the appointment Sir Brendan Barber as the new Chair of Acas.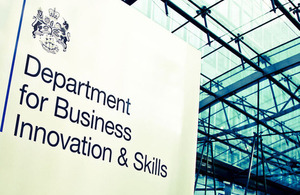 Business Secretary Vince Cable has today announced the appointment Sir Brendan Barber, former General Secretary of the Trades Union Congress (TUC), as the new Chair of the Advisory, Conciliation and Arbitration Service (Acas) Council.
Sir Brendan will take up his role in the new year and will replace current Chair, Ed Sweeney, who has been in the post since 2007.
Business Secretary Vince Cable said:
Sir Brendan has spent his whole career in employment relations and will be able to bring his considerable experience in dispute resolution to this important post. Last year Acas were involved in around 80,000 individual and 900 collective conciliations, playing an essential role promoting economic growth in the UK.
I also want to place on record my thanks to Ed Sweeney for his contribution and steadfast work over the past 6 years.
Sir Brendan Barber said:
I am very pleased to be taking on this role. Acas has played a crucial role over many years promoting best practice in employment relations, and helping to resolve countless seemingly intractable workplace disputes. Its work will be particularly important to meeting the challenge of building a genuine sustainable recovery with fairness at work at its heart.
The appointment will be for 3 years with the option to extend for a further three years subject to satisfactory performance. His appointment followed a fair and open competition.
Notes to editors
1.Sir Brendan Barber biography
Brendan is currently member of the Board of Transport for London and a member of the Council of City University London which he graduated from with a BSc in Social Sciences in 1974. His career has been almost exclusively within the TUC where he held the post of General Secretary from 2003 to 2012. Additionally, he sat on the Acas Council from 1995 to 2004, the Board of Sport England from 1999 to 2003 and the Court of the Bank of England from 2003 to 2012.
He is a Visiting Fellow at the Said Business School, Oxford University, and a Visiting Fellow at Nuffield College, Oxford. In 2007 he received an Honorary Doctorate from the City University.
Sir Brendon was knighted in the 2013 Birthday Honours for services to employment relations.
2.Public appointments
All public appointments are made on merit following a fair and open competition and political activity plays no part in the selection process. However in accordance with the original Nolan recommendations, there is a requirement for appointees' political activity (if any declared) to be made public.
3.Acas and the role of the Acas Council
Acas is an independent non-departmental public body (NDPB) and the Acas Council is the overarching governance body for Acas. The Council consists of 11 members, including the Chair, and membership is drawn from employer, trade union and independent backgrounds.
Acas aims to improve organisations and working life through better employment relations. It provides 3 main services:
advice on workplace matters through a helpline which received just under a million calls in 2012 to 2013 and a website with over 4 million hits annually
conciliation services which help resolve disputes between employers and individual employees or groups of employees – last year Acas advisers were involved in around 80,000 individual conciliations and 900 collective conciliations
tailored training and advice for individual organisations. In 2012 to 2013, Acas trained over 25,000 delegates across over 1800 events
4.Links to government
Acas is independent of ministers, but is one of BIS' key partners. The government's economic policy objective is to achieve 'strong, sustainable and balanced growth that is more evenly shared across the country and between industries' and Acas' services contribute to delivering a competitive, efficient and effective labour market which supports economic growth and employment.
5.The government's economic policy objective is to achieve 'strong, sustainable and balanced growth that is more evenly shared across the country and between industries'. It set 4 ambitions in the 'Plan for Growth', published at Budget 2011:
to create the most competitive tax system in the G20
to make the UK the best place in Europe to start, finance and grow a business
to encourage investment and exports as a route to a more balanced economy
to create a more educated workforce that is the most flexible in Europe
Work is underway across government to achieve these ambitions, including progress on more than 250 measures as part of the Growth Review. Developing an Industrial Strategy gives new impetus to this work by providing businesses, investors and the public with more clarity about the long-term direction in which the government wants the economy to travel.
Published 18 October 2013