World news story
Sinking of DF Hydro 70th anniversary events in Norway
The British Embassy participated in events marking the 70th anniversary of the sabotage of Telemark's heavy water plant during World War II.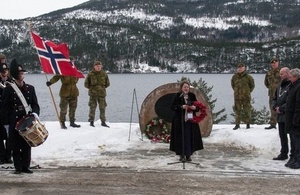 The actions of WW2 Allied Forces and Norwegian Resistance Movement in the heavy water sabotage operation prevented the German nuclear energy project at the time from acquiring heavy water (deuterium oxide), which could be used to produce nuclear weapons.
Dr. Carol van der Walt, Deputy Head of Mission and Chargé d'Affaires for the British Embassy Oslo attended a ceremony on 20 February, marking the 70th anniversary of the sinking of DF Hydro on Lake Tinnsjø near Rudsgrend. The Norwegian Resistance Movement sank DF Hydro on 20 February 1944, killing 14 Norwegians and 4 German soldiers.
The sinking of the ship prevented the occupying forces from exporting any remaining heavy water following the earlier destruction of the plant. Dr. van der Walt laid a wreath in memory of those who lost their lives in the action. Wreaths were also laid by the mayors of Tinn and Notodden and by Eivind Kallevig on behalf of Hydro.
Last year the embassy and military representatives attended the 70th anniversary of the heavy water plant being demolished in an explosion. That operation was also carried out by Norwegian resistance fighters, including Joachim Rønneberg, who at 93 years old is the only living survivor of the heavy water saboteurs.
The destruction of the heavy water production facility in Telemark would later be evaluated by the British Special Operations Executive (SOE) to be the most successful act of sabotage in all of World War II.
Published 25 February 2014