Single non-emergency 101 police number launched
A single non-emergency 101 number has been rolled out to police forces across England and Wales to help the public to access the police when they need them.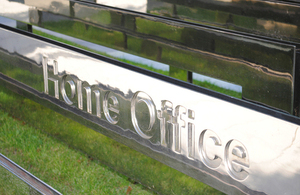 101 will give the public a memorable number for their local police to report crimes and concerns that do not require an emergency response. It will also help the police to deal more efficiently with calls for help from the public.
At 15p per call from both mobile phones and landlines, no matter how long the call or what time of day, the public will be spared the cost of traditional 0845 numbers previously used by many forces which can cost up to 40p per minute.
With only 25 per cent of 999 calls to the police requiring an emergency response, ministers and chief constables are confident that the 101 number will also ease pressure on 999 services.
Police forces in England and Wales have gradually gone live with 101 on a phased basis. The last of the 43 forces have now adopted the number and it is already proving popular with more than two and a half million calls.
Nick Herbert, Minister for Policing and Criminal Justice, said:
'The introduction of the 101 number marks one of the most significant changes in the way people contact the police since 999 was introduced nearly 70 years ago.
'The public now have an easier way to contact their local police force with a memorable number for non-emergencies.  Previous plans for a national non-emergency number never materialised, but this Government has delivered a practical scheme.
'Together with street level crime mapping and the election of police and crime commissioners, 101 marks another step forward in our ambition to strengthen the connection between the police and public, and cut crime.'
Commander Ian Dyson, ACPO lead on contact management, said:
'Having just two phone numbers - 101 for reporting a crime that has happened, to get advice or to raise local policing issues - or 999 if it's an emergency, makes calling the police a lot easier and makes our services more accessible.
'It's also expected to reduce the number of inappropriate 999 calls the service receives, enabling us to respond to genuine emergencies more effectively.
'999 should only be used in an emergency, that is when a crime is happening, when someone suspected of a crime is nearby, or where someone is injured, being threatened or in danger. For all other matters the public should call us on 101.'
Looking to the future, the government is aware of the potential of 101 for transforming local services. Subject to local agreement, the 101 number could enable the police to join up with partners to provide communities with easier access to a wider range of local services.
Notes to editors
Prior to the introduction of 101, nearly half of all police forces used 0845 numbers which can cost the public more than 40p per minute. Calls to 101 cost 15p for the entire call, no matter how long the call or what time of day it is.  This applies to both landlines and mobile phones.  For the first time ever, everyone calling the police for non-emergency matters will know exactly how much it will cost them and will be assured of equal access whether they are on a pay-as-you-go mobile or a home landline.

In 2010, the British crime survey found that only 54 per cent of the public know how to contact their local police if they want to talk to them about policing, crime or anti-social behaviour. Giving people an easy and memorable number to call to contact their local police force could improve reporting of crime and disorder, ease the pressure on 999, and help to efficiently and effectively tackle crime and disorder.

The public should continue to call 999 in an emergency, such as when a crime is in progress, when someone suspected of a crime is nearby, when there is danger to life or when violence is being used or threatened.

There are a number of examples of situations where the 101 number has proved invaluable to both public and police.

For interview opportunities with the Policing and Criminal Justice Minister call the Home Office press office on 0207 035 3535.
Published 10 January 2012