Simulators to help guard against CBRN threats
The latest simulators to train Service personnel to deal with chemical, biological, radiological and nuclear (CBRN) threats have been delivered on time and within budget.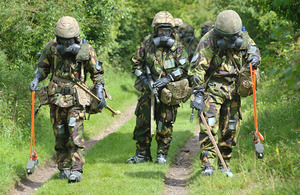 UK manufacturer Argon Electronics has supplied the new systems, including instrumentation and simulation software, to the Defence Chemical, Biological, Radiological and Nuclear Centre at Winterbourne Gunner on Salisbury Plain.
The Defence Equipment and Support (DE&S) organisation's CBRN protection leader, Phil Strudley, said:
Acquisition of this latest equipment is an important step for the CBRN training centre, providing our trainers with a range of sophisticated tools that allow us to simulate a wide range of threat scenarios.
The CBRN team worked closely with Argon Electronics to ensure that the contract was fulfilled on time and within budget:
The equipment was specified, ordered and delivered within 16 weeks. This shows what can be achieved with a good working relationship between our DE&S team and a specialised UK manufacturer," said Mr Strudley.
The Argon Electronics equipment includes the company's latest instruments, simulators and the advanced PlumeSIM wide area CBRN field exercise and desktop training system. This enables instructors to manage multiple remote simulator instruments under a fully configurable virtual plume, in real-time, over user-selected mapping.
Mr Strudley added:
Tools such as PlumeSIM will allow us to train personnel faster and more efficiently, giving them the knowledge and experience that will help them perform an even better job once they return to operational duties.
These advanced simulators will also help reduce the integrated logistic support costs associated with our detectors.
Published 8 August 2012