Signallers supported at Swindon Town
Soldiers and their families received a standing ovation from thousands of football fans in Swindon at the weekend.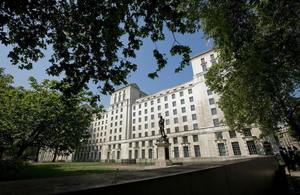 The League One match was a vital home game for Swindon Town Football Club, known as 'The Robins', and had been chosen as a 'Military Day' to enhance the relationship between local Army units and the club, and raise funds for the charity Help for Heroes.
Troops from 21 Signal Regiment (Air Support), based in Colerne, provided a guard of honour for the Swindon team and their opponents, Dagenham and Redbridge, at the host side's County Ground home, while soldiers from 600 Signal Troop, part of 10 Signal Regiment, based in Corsham, collected money from the crowd for Help for Heroes.
The Royal Corps of Signals' Pipes and Drums added to the atmosphere, entertaining the crowd with their musical skills, and the national anthem was sung - a rare event at a League One game. Just before the 1500hrs kick-off, Colonel Garry Hearn, Commandant of the Defence College of Communications and Information Systems, Blandford, took centre stage to present the match ball to the referee.
Army families from local bases including Corsham and Colerne were among the many thousands in the crowd to enjoy the football action and the atmosphere of the day.
Some of the children of serving Army personnel had the honour of being mascots for the teams, while others took to the pitch for a half-time football match.
The match itself saw the home team starting strong, with striker Mike Grella, on loan to Swindon from Leeds, scoring for The Robins at the stroke of half-time. Dagenham emerged from the tunnel with steely determination in the second half, piling pressure on the Swindon defence before Jon Nurse scored an equaliser with just eight minutes left to play. The match ended a 1-1 draw. Thousands of pounds were collected for Help for Heroes during the match to assist the charity's work on behalf of wounded and injured Service personnel:
The Troop has taken up the mantle of doing these charity events for Help for Heroes," said Captain Adrian Fletcher, Officer Commanding 600 Troop, part of 10 Signal Regiment.
The Royal Signals Corps Pipes and Drums provided fantastic support, and 21 Signal Regiment, who are due to go to Afghanistan in the next few months, provided the guard of honour. We very much appreciate the support from Swindon Town Football Club and the fans today.
Published 15 March 2011