Signallers receive Afghanistan medals
Soldiers from Alpha Troop, 244 Signal Squadron, 21 Signal Regiment (Air Support) received their Afghanistan Operational Service Medals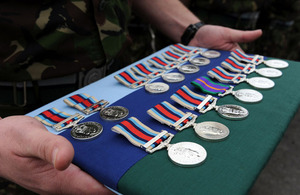 Watched by colleagues, family and friends at Azimghur Barracks in Colerne, Wiltshire, 20 personnel received their Operation HERRICK medals from the Royal Corps of Signals Officer-in-Chief (Army), Brigadier Tim Watts.
The medal parade followed a public thanksgiving service at St John the Baptist Church and a march through the village back to the barracks.
Corporal Kirsten Gunn said:
It's been a good six months working in the operations room dealing with medical missions and getting troops off the ground and into care.
It's good to be back home now to have quality time with my daughter who is nearly six. The church service and welcome by everyone in the village and the schoolchildren was lovely and has made it all worthwhile.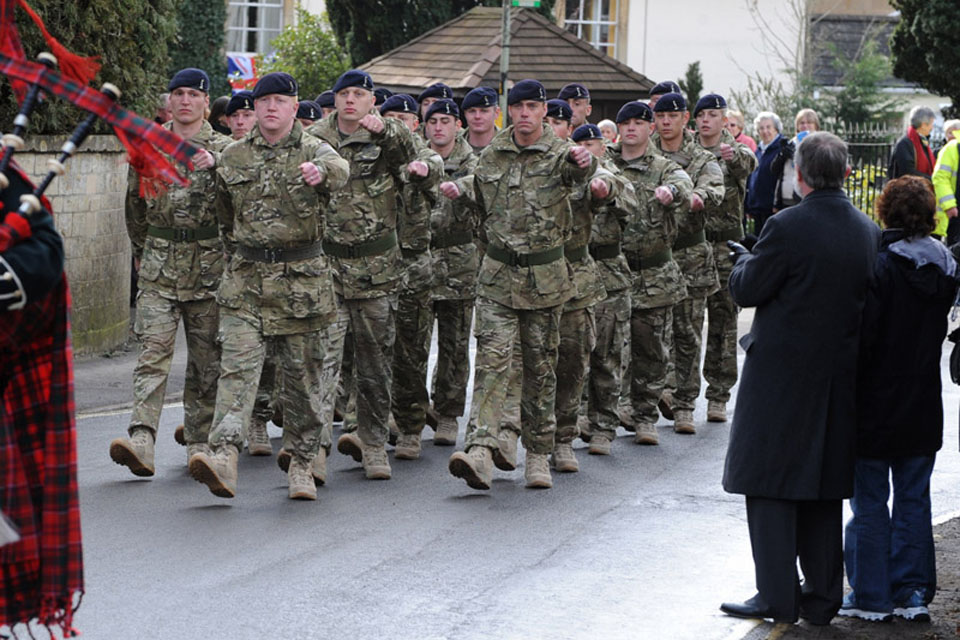 The role of Alpha Troop, commanded by Captain Calum Davidson, was to provide the ground-to-air communications and command support for the Joint Helicopter Force (Afghanistan). The signallers manned the radios providing the vital link between the commanders on the ground and the helicopter assets supporting 16 Air Assault Brigade's mission.
Their speed of thought and action was crucial in ensuring that medical assets were tasked across the area of operations with accuracy, ensuring the fastest and best possible treatment for injured soldiers. In addition, they controlled communications for all helicopter daily tasking and deliberate operations:
The information handled by the signallers can be quite harrowing at times and it's vital to link to those on the ground," said Captain Davidson.
The more confident the signallers are, the quicker messages are passed to get helicopters on the ground.
As Alpha Troop, 244 Signal Squadron, marks its return from Afghanistan, 260 more personnel from 21 Signal Regiment (Air Support) are preparing to deploy in June 2011 in support of 3 Commando Brigade on Operation HERRICK 14.
Their role will be to provide communications and information systems for British forces throughout Helmand and to provide force protection for British personnel in the capital of Afghanistan, Kabul.
21 Signal Regiment (Air Support) has been based in Wiltshire for the past 19 years and is the only Air Support Signal Regiment in the British Army. It has had a troop permanently based in Afghanistan since 2006.
244 Signal Squadron has deployed personnel on attachment worldwide throughout the year in support of operational training in Kenya, Jordan, Morocco and California.
Published 11 March 2011