News story
Sign up to Child Rescue Alert text scheme, Home Secretary urges
The new Child Rescue Alert text message scheme sends out appeals quickly when a child goes missing.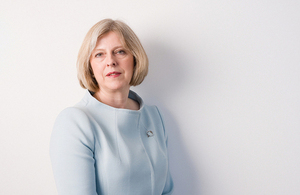 The Home Secretary has urged people to get behind a new text message service that will send out information appeals as soon as a child is reported missing.
Speaking at a special event at the House of Lords ahead of International Missing Children's Day, Theresa May gave her support to the Child Rescue Alert Service and welcomed the upcoming launch of the UK's first purpose-built website providing information on dealing with child abduction - the Child Abduction Hub.
The event was organised by the charities Missing People and Parents and Abducted Children Together (PACT), who are behind the new initiatives.
Child Rescue Alert
The enhanced Child Rescue Alert system will issue alerts via email and text message when a child has disappeared and their life is at risk. The system is the responsibility of the National Crime Agency (NCA), in partnership with Missing People and technology company Groupcall Limited.
Child Abduction Hub
The Child Abduction Hub, produced by the PACT and supported by the NCA, is a new online source of information and advice on all types of child abduction.
Home Secretary Theresa May said:
These initiatives will offer vital support and protection for missing children and their families.

When a child goes missing, it is crucial that as many people as possible are looking for them. The Child Rescue Alert will spread appeals quickly and widely, via text messages and digital billboards, increasing the likelihood of a child being found. I would urge everyone to sign up to this scheme.

The Child Abduction Hub will be a key source of information on all types of child abduction – whether it's committed by a parent, a family friend or a stranger. This will help parents, teachers, and other professionals make common-sense, well informed decisions on how to keep children safe.
The launch of these new tools support the wider work the government is doing to improve the response to missing people reports and put in place better protection for children vulnerable to going missing, or being taken. In March, the Home Office provided £220,000 worth of funding to Missing People to help them run their telephone helpline and support services.
Government strategy
The Government's Missing Children and Adults Strategy highlights the importance of this issue and provides a core framework for local areas to consider if they can, and should, do more to help these vulnerable people.
Children are particularly at risk of harm and exploitation whilst missing and in 2012 the government created a dedicated response to such cases through the Child Exploitation and Online Protection (CEOP) Command. This is ready to respond to any complex or high profile case, be that in the UK or abroad.
The government has also set out statutory guidance for local authorities and their partners, setting out the steps they should take to prevent children from going missing and providing support if they do. This includes making sure every child who goes missing from home or care will now have the chance to talk to an independent person about why they ran away.
The House of Lords event was also attended by Kate McCann, mother of missing Madeleine, and Coral and Paul Jones, parents of April Jones, who also called for people to sign up to the Child Rescue Alert System. This will go live on International Missing Children's day on Sunday 25 May.
Published 21 May 2014