World news story
Showcase of British Cyber Technology
British Embassy Muscat organised a cyber security seminar in Muscat conducted by the UK industry to showcase their services.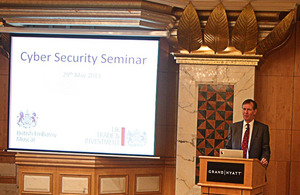 The British Embassy organised on Wednesday 29 May a cyber security seminar in Grand Hyatt Muscat. Some of the best of the UK cyber industry travelled to Muscat to showcase their capabilities. The Information Technology Authority including Oman CERT and senior managers and security specialists from major companies attended the event to hear examples where the companies have helped provide cyber security.
Internet and electronic communications has had a profound impact on economies and societies. Many industries have undergone radical change, offering new models such as internet banking, online retailing and distance learning. But there is a growing realisation that these technologies contain vulnerabilities that are being attacked and exploited. The recent cyber attacks on RasGas and Saudi Aramco demonstrate some of these risks.
The UK is a leader in cyber security, offering technical innovation, a skilled workforce, sound legal and regulatory environments, and experience gained through widespread adoption of internet technologies in all parts of the UK economy. The UK Cyber Security Strategy sets out the UK approach to tackling cyber crime and being more resilient to cyber attack. Fundamental to this strategy is the partnership with the private sector and cooperation with other countries.
His Excellency, Jamie Bowden, the British Ambassador to the Sultanate was pleased with the attendance and interest in the UK expertise. He said in his welcoming speech:
The UK has made major financial and intellectual investments into cyber security and is committed to working with our friends in Oman to improve our collective security and prosperity. Much of the UK national expertise resides in the commercial sector and our major commercial, defence and security interests are protected in a close partnership between government and industry. The best of the UK cyber companies are present today showing examples of where they have identified and addressed cyber security challenges for governments and businesses.
Engineer Badr Al –Salehi, Director of Oman CERT stressed in his speech the need for an effective public private partnership programme to combat cyber threat.
Local press coverage
Published 30 May 2013