World news story
Shorter commends women participation in municipal life, IWD2016
On the occasion of International Women's Day, Ambassador Hugo Shorter hoped for more women participation in municipal life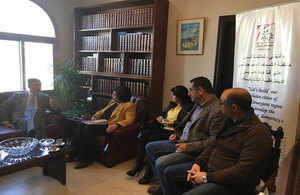 British Ambassador Designate Hugo Shorter visited Baakline Municipality on the occasion of International Women's Day and met with Dr. Noha Ghosseini, Head of Baakline Municipal Council and Head of Chouf –Sweijani Union of Municipalities.
Dr. Ghosseini expressed her appreciation to the citizens of Baakline and surrounding villages that brought women to its municipal council and believed in their capabilities and potential as a factor of change and development. She also commended the EU funded project that set-up neighbourhood committees including residents from all ages to contribute to the municipal work. Dr Ghosseini hoped to see more women involved in municipal life in the upcoming elections to exceed the 6 seats women have, with 3 of them from the Chouf.
After his visit Ambassador Shorter said:
It was inspiring to meet Dr Noha today on the occasion of International Women's Day. Women's empowerment is not just a political issue, it's a development issue too. UK Development Secretary Justine Greening, who visited Lebanon in January, has said that no country can successfully develop if half its population is left behind. Similarly, no democracy can be truly representative when half its population is excluded. Women in politics can help to ensure that key issues which matter in women's everyday lives are addressed. But their remit should not be limited to women's issues: they also bring new approaches and perspectives and help to ensure government that is truly inclusive.

We also discussed the upcoming municipal elections, which are vital for democracy in Lebanon and vital for the public services which matter most to local people. In countries around the world, local politics has provided an important entry point for women getting into politics, and I hope that this year we will see more women presenting themselves as candidates, and more women winning seats, than ever before.
On his return to Beirut, the Ambassador attended the workshop organized jointly by UNSCOL, UNDP, NDI and Women in Front, focused on women participation in the upcoming elections as candidates and voters.
The British Embassy through its bilateral programme budget and other funds continues to work with local and international NGOs to assist, empower and encourage women to take a wider role and become active members in society and political life.