News story
Short film shows the full extent of slavery in the UK
The Home Office has launched a new short film that lays bare the issue of modern slavery in the UK.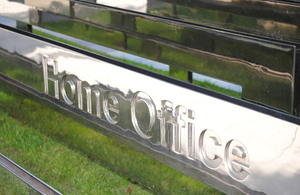 The seven minute film, which includes interviews with front line professionals and charity workers from the NSPCC and ECPAT UK, features stark scenes of the most common types of modern slavery, such as sexual exploitation and domestic servitude.
Modern Slavery and Organised Crime Minister, Karen Bradley, said:
Modern Slavery is an appalling crime that has no place in today's society.

This government is determined to stamp it out and has introduced a ground-breaking Modern Slavery Bill, the first of its kind in Europe.

But legislation is only part of the solution. Our national campaign encourages people to stop and think about the crimes that might be going on around them and this film clearly demonstrates the extent to which people can be trapped in a life in which they have no control.
The short film is the latest part of the Home Office's nationwide awareness campaign, launched in July, to encourage the public who suspect cases of modern slavery, or those who feel they may be in a situation of slavery, to call a new national helpline.
The Modern Slavery Bill, the first of its kind in Europe, aims to give law enforcement the tools to stamp out the crime and increase support and protection for victims. It reflects the government's determination to lead the global fight against this evil.
The Bill is now being scrutinised by Parliament with the intention that it is made law before the General Election next year.
The film can be viewed at the Home Office's YouTube channel.
For more information on how to spot the signs of Modern Slavery and how to refer suspected victims visit www.modernslavery.co.uk or please call our helpline on 0800 0121 700.
Published 29 August 2014