News story
Shoreway/Orca: accident investigation report and flyer published
Collision between dredger Shoreway and yacht Orca 7 miles off Felixstowe, England with loss of 1 life on 8 June 2014.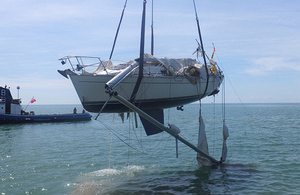 The report into MAIB's investigation of the collision between dredger Shoreway and yacht Orca, 7 miles off the coast of Felixstowe, England with the loss of 1 life is now published.
The report contains details of what happened, actions taken and recommendations. Read more.
An accident flyer, aimed specifically at the leisure industry, has also been produced for this accident highlighting the importance of maintaining a proper lookout at all times and an awareness of closing speeds between their own and other vessels.
Press enquiries
Press enquiries during office hours 01932 440015
Press enquiries out of hours 020 7944 4292
Published 20 May 2015