World news story
Shopping is GREAT: British Brands in Vietnam
From:

Part of:

Published:

29 October 2015
The 'Shopping is GREAT' competition will be run in Vietnam from 30 October 2015 to 7 January 2016 to highlight the UK's brands.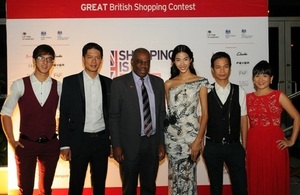 The United Kingdom is home to some of the world's best known shops and some of the globe's most iconic brands. The British government is proud that many of these brands are now in Vietnam.
To highlight these brands, we will be running 'Shopping is GREAT' campaign throughout November and December 2015 and January 2016.
The campaign will be launched at the British Consulate General in Ho Chi Minh City on 29 October.
The opening event will be hosted by Douglas Barnes, British Consul General and Lord Puttnam, UK Trade and Cultural Envoy to Vietnam. It will feature a display of British cars and a fashion show of leading British brands available in Vietnam.
Britain is a world class leader in creativity and design talent. Ever year more GREAT British brands come to Vietnam. These interesting and exciting products are available in stores in Hanoi, Ho Chi Minh City and cross Vietnam. And it is also possible to access great British brands through the on-line shopping portal ZALORA.
As part of the 'Shopping is GREAT' campaign, participating retailers are offering numerous products and discount vouchers.
ZALORA will be holding several on-line promotional events throughout the campaign period. British banks HSBC and Standard Chartered are also offering their customers attractive cash back offers when purchasing British brands.
Competition grand prize
In addition to the fun and excitement of shopping for British brands in Vietnam, there is also a competition to win a trip to London, the shopping capital of the world.
The competition will run from 30 October 2015 to 7 January 2016. The grand prize includes:
trip to London in February 2016 with 2 economy class tickets from Emirates Airlines
5 nights stay for 2 at the InterContinental London Park Lane
2 VIP tickets to London Fashion Week
2 VIP tickets to a Tottenham Hotspur football match
VIP day trip to Bicester Village
Winners of the competition will be announced at the closing ceremony to be held in mid January 2016.
Notes for editors
The "Shopping is GREAT" competition will last from 30 October 2015 to 7 January 2016. Any single receipt for a purchase of VND 1 m or more will entitle the shopper to be one entry in a raffle at the end of the competition.
As well as the grand prize there are other prizes.
Other favours
10% discount for Ho Chi Minh City – London flights from Emirates Airlines (apply to all valid vouchers)
VND1 million cash back from HSBC for new card applications during the campaign with valid purchases
VND1 million cash back from Standard Chartered for first 200 customers using their debit cards
Other prizes
Dr. Martens: 1 VND5 million pair of shoes and 3 cash vouchers of VND2 million
ZALORA: VND10 million shopping account
Pepe Jeans: net purchase of 3,000,000VND will get a free set of towel
The Body Shop: a product set worth VND1,999 million
1 teddy bear and 1 500,000 voucher
Organisers
British Embassy Hanoi
British Consulate General
UK Trade and Investment (UKTI)
British Business Group of Vietnam
Grand sponsors
Emirates Airlines
Intercontinental London Park Lane
Premium sponsors
Central Group; Hoang Phuc International; The Body Shop; HSBC; Standard Chartered Vietnam; Parkson; Nhat Nguyet; Maison; Jaguar; Land Rover; and Mini.
The campaign is also available online through ZALORA's website.
Participating UK brands
Accessorize; Burton Menswear London; Clarks; Coast, Dorothy Perkins; Dr Martens; F&F; Fever London; Fiorelli London; Hamleys; Izabel London; Lola Skye London; Marks & Spencer; Miss Selfridge; New Look; OASIS; Pepe Jeans; River Island; The Body Shop and Warehouse.
Document information
Published: 29 October 2015