Sheerness port companies bolstered by £9 million tax refund
Local Government Minister Bob Neill visited Sheerness Port today (25 October 2010).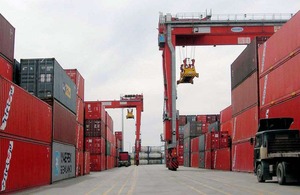 While there the minister heard how the government's decision to waive £175 million of unexpected port taxes across the country was benefiting local port businesses.
Mr Neill told workers that the government would be introducing specific new legislation before the end of the year that would take forward the promise made in June to cancel these crippling backdated business rate bills.
Sheerness alone faced a backdated bill of almost £9 million. Leaders of local port businesses told the minister how the government's decision had saved local jobs and given export companies the confidence to reinvest and grow.  
Bob Neill said:
"Hearing about Sheerness's journey first hand has confirmed for me that our decision to waive and repay these unexpected  port taxes was a victory for common sense. They can now move forward unburdened by these unexpected debts
"It's clear to me that our swift action has saved many port-based businesses and jobs, and ensured that Britain remains a powerful force in European exports. Today I can confirm that we will introduce legislation before the end of the year that will permanently consign these unfair back taxes to the scrapheap."
Published 25 October 2010