Shedding light on mental health in the forces
In 2003, Professor Wessely's team was asked to investigate whether personnel returning from Iraq had any of the symptoms associated with what…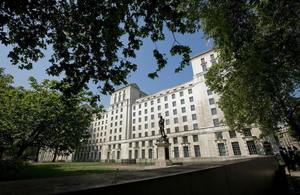 In 2003, Professor Wessely's team was asked to investigate whether personnel returning from Iraq had any of the symptoms associated with what had been dubbed Gulf War Syndrome.
Results showed they did not, but, as the conflict in Iraq continued and operations in Afghanistan began, the MOD asked Professor Wessely and his team to continue tracking their randomly-selected sample of 10,000 troops:
After 2005, Iraq got nastier and casualty rates went up," said Professor Wessely.

Then the same happened in Afghanistan, and an assumption was made - particularly by the media - that this would lead to a dramatic increase in mental health problems. It's hard to find a newspaper report that doesn't take it for granted that we were facing a bow wave or even a tsunami of cases.
The King's College team's independent research looked at what had happened to troops serving in Iraq and Afghanistan between 2005 and 2009, as well as those who had not deployed:
The answer, surprisingly, was not very much," said Professor Wessely.
His study shows that rates of post-traumatic stress disorder have remained stable among regular Armed Forces, at between three and four per cent.
However, Defence Medical Services, the NHS and veterans charities are seeing more cases:
That simply reflects that more and more people have deployed," said Professor Wessely.

The rate remains steady but the absolute numbers are going up. There's been no collapse in morale, no catastrophic epidemic of mental health problems. We also did not find an effect of the number of deployments.
This, he says, is in contrast with the situation in the USA:
In America, the rates of mental health problems have gone dramatically up. It may well be to do with inequalities in healthcare when troops get home.
Longer operational tours of duty - US soldiers can be away for up to 15 months - and shorter breaks between tours may also be a factor:
It's not the same here," said Professor Wessely. "And what's happening in the US is not a good guide to what might happen in the UK.
However, the news for British troops is not all good. Reservists are nearly three times more likely to suffer mental health problems after serving in Iraq and Afghanistan. This is probably due to the absence of informal support networks found in the Army bases and garrison towns where regular troops tend to live.
The other bad news is that the research highlighted a worryingly large alcohol problem. Troops returning from an operational theatre are 22 per cent more likely to have an alcohol problem than those who haven't deployed:
Alcohol does much more harm to the Armed Forces, to individuals, to their families, society, yet it doesn't get talked about," said Professor Wessely.

We showed that not only are there high levels of drinking in the forces, but there is an effect from deployment - people come back and reinstate their drinking at a higher level than before they left.

It's not an easy subject and there's no obvious answer," he continued. "Because alcohol also has a very positive influence on military culture - units that drink more have better cohesion and higher morale.
He points out that other close-knit professions, such as doctors and journalists, tend to behave in the same way:
It's part of how they cope with adversity. I think in any institution where you mix with your own, alcohol is an important factor.
Professor Wessely's interest in the mental health of soldiers extends beyond his role as an advisor to the MOD. He is also a trustee of the veterans' mental health charity, Combat Stress:
I'm neutral about research but absolutely positive about wanting to improve the health of the Armed Forces," he said.
And he is sure that academic research is an important tool. Of his team's extensive research to date, he said:
We've only published the headline-grabbing areas so far. We have a wealth of information on tour length, operational stress on families, on jobs, on reintegration into civilian life, reservists and medical countermeasures.
MOD priority
Looking after the mental health of Armed Forces personnel and veterans is a 'top priority' for the MOD says the Defence Secretary, Dr Liam Fox. He has said a programme will be set up to tackle post-combat mental health issues for those leaving the forces.
Reservists are offered a mental health assessment and treatment for combat-related conditions. 75 per cent of those treated recover.
Those at risk from alcohol problems get counselling and welfare support from the MOD. More serious cases receive specialist medical and psychological treatment and rehabilitation.
Trauma Risk Management (TRiM) and Battlemind programmes are now standard within deployed military units, and decompression breaks in Cyprus are scheduled for all troops returning from operations in Afghanistan.
This article is taken from the July 2010 edition of Defence Focus - the magazine for everyone in Defence.
Published 16 July 2010