Press release
SHARP helmet rating reaches milestone as government urges drivers to THINK BIKER over Easter
The total number of helmets rated under the government's SHARP programme has reached 300.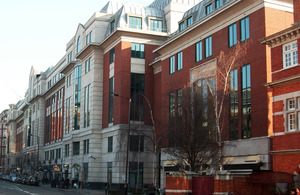 Road Safety Minister Stephen Hammond urged drivers to think bike over the Easter weekend today as the total number of helmets rated under the government's Safety Helmet Assessment and Rating Programme (SHARP) reached 300.
The milestone in the Department for Transport's programme was reached following the publication of ratings for a further 11 new models of helmet.
Road Safety Minister Stephen Hammond said:
Despite the recent cold weather, Easter is traditionally a time when riders start getting their motorcycles out. This unfortunately makes it a time when we also see an increase in the number of accidents involving motorbikes.

Motorcyclists account for just 1% of traffic but 19% of deaths on Britain's roads and 30 bikers are killed or injured in accidents at junctions every day, which is why we recently launched a £1.3 million THINK! motorcycle safety campaign which urges drivers to take longer at junctions to look out for motorcyclists.

It is great news that 300 helmets have now been rated by SHARP – making these safety ratings available to motorcyclists helps them choose a helmet that provides the best possible protection in an accident and I hope this will contribute to reducing in the number of tragedies we see on our roads.
The SHARP tests – which award ratings of between one and five stars – show that the safety performance of helmets can vary by as much as 70%. With helmets across a wide price range scoring highly, all riders should be able to find a high performing helmet in a size and style that fits them and at a price they want to pay.
Notes to editors
In 2011, 5,609 motorcyclists were killed or seriously injured with 74% of these occurring in accidents involving another vehicle. 69% of these casualties happened at junctions. The number of accidents increases significantly during March and April as improved weather encourages more motorcyclists onto the road.
The THINK! campaign targeting motorists will run from March to May with messages delivered through radio advertising and in petrol stations when the call to action is more closely linked to the behaviour THINK! is seeking to change. Wider awareness will be generated through TV video on demand advertising, targeting younger drivers in particular.
All helmets must meet minimum legal safety standards to be sold in the UK but the SHARP scheme uses a wider range of tests to provide riders with more information on how much protection a helmet can provide in a crash.
The objective advice, which includes important guidance on how to select a good-fitting helmet, will help riders to choose the safest helmet suitable for them.
For more information about SHARP please visit the SHARP website.
The new SHARP ratings published today are:
SHARP launch March 2013
Full face helmets
| No | Make | Model | Rating | Latch |
| --- | --- | --- | --- | --- |
| 1 | AGV | Grid | 4 | - |
| 2 | Duchinni | D832 | 5 | - |
| 3 | Frank Thomas | FF07 | 4 | - |
| 4 | Icon | Alliance | 3 | - |
| 5 | Icon | Airframe | 4 | - |
| 6 | Nexx | XR1R | 3 | - |
| 7 | NZI | Premium S | 3 | - |
| 8 | Viper | RS-V5 Zero | 2 | - |
System (flip) helmets
| No | Make | Model | Rating | Latch |
| --- | --- | --- | --- | --- |
| 9 | Frank Thomas | FL09 | 3 | 20 % |
| 10 | LS2 | FF370 | 4 | 100% |
| 11 | Nolan | N104 | 4 | 100% |
Press enquiries: 020 7944 3066
Out of hours: 020 7944 4292
Public enquiries: 0300 330 3000
Published 29 March 2013