World news story
Shared History. Shared Future.
Institute of Management Sciences Peshawar hosts photo exhibition to celebrate 70 years of UK-Pakistan relationship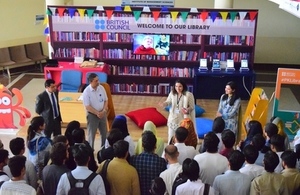 The British High Commission opened its photography exhibition, which will be touring the UK and Pakistan, in Peshawar at the Institute of Management Sciences.
The inaugural exhibition entitled 'Shared History. Shared Future.' showcased the UK and Pakistan's 70th Anniversary of bilateral relations and was attended by senior faculty and students from the university.
The British Council also set up its first pop-up library in Peshawar at the exhibition.
The Head of Communications at the British High Commission Islamabad Samuel Heath said:
I am delighted to present this exhibition in the historic city of Peshawar. 2017 is a special year for us as we are celebrating 70 years of bilateral relations between Britain and Pakistan.

The photographs you will see showcase the strong relationship we have with Pakistan and span various areas of our cooperation in education, health, culture, defence, politics, infrastructure, trade and sport. In particular, we have displayed some moving images of our work in education in the province of Khyber Pakhtunkhwa.

In the following months the exhibition will travel to a number of other cities in the UK and Pakistan, but we were delighted to start the tour at the fantastic Institute of Management Sciences in the important city of Peshawar.
Throughout the year, the British High Commission is organising several events and activities to mark 70 years of UK and Pakistan's bilateral relations. Details of these events are regularly featured on the British High Commission's social media pages.
Contact
Press Attaché
British High Commission
Islamabad
Tel. 051 201 2000

Notes to the editor:
For updates on the British High Commission's 70th Anniversary of UK – Pakistan relations, please follow our social media channels: